Docu Talents from the East 2012
Docu Talents from the East 2012 introduced the most remarkable creative documentary projects from Central and Eastern Europe in the stage of production or post-production.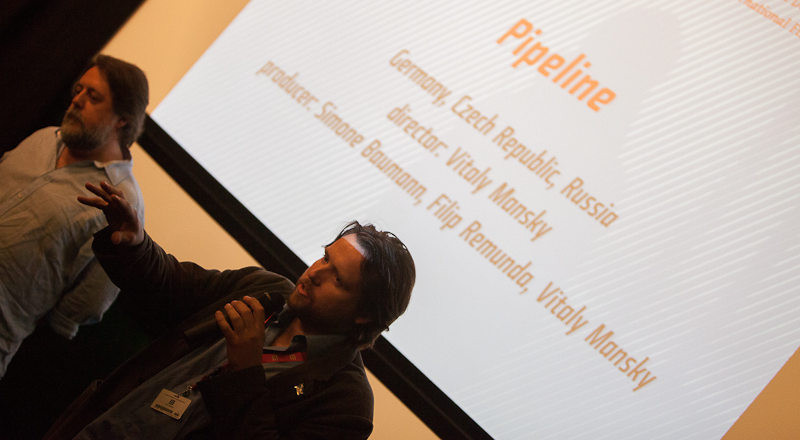 Projects presented at Docu Talents from the East 2012
FORTRESS / PEVNOST
Directors: Klára Tasovská, Lukáš Kokeš
Country: Czech Republic
Producers: Nutprodukce - Tomáš Hrubý, Pavla Kubečková
Director of photography: Lukáš Kokeš
Film length: 70 min
Stage of development: post-production
Estimated date of premiere: September 2012
Synopsis
Just a few kilometres east from the border of the European Union, right between Moldova and Ukraine, lies the Pridniestrovian Moldavian Republic /PMR/. The thin strip of land on the left bank of the Nistru river with 518 000 citizens is not recognized by any other country. On this officially non-existent territory, a professional film has never been shot. Framed by the time of presidential election, "Fortress" focuses on a couple of characters being stuck in this geo-political gap, in between the European Union and Russia, in between capitalist present and Soviet past, crime and decency, decadence and hope for change.
EUGENIC MINDS / EUGÉNIOVÉ
Director: Pavel Štingl
Country: Czech Republic, Slovakia
Producers: Jiří Konečný / endorfilm, Czech Television, Punkchart Films
Director of photography: Miroslav Janek
Film length: 80/52 min
Stage of development: production
Estimated date of premiere: March 2013
Synopsis
Eugenics was once considered more ground-breaking than the invention of the wheel. It was supposed to save mankind from serious genetic loads. After World War II, the term eugenics almost disappeared from the world's dictionaries. The science had been misused by the ideology for the selective criteria of a perfect nation. The "wrong ones" were eliminated or deprived of their rights for existence in their own space. However, it was not the politicians but the scientists who determined the criteria. The unique archive material produced by the ideology of better tomorrows will be used together with various animation techniques to create a fantastic vision of the future which had turned into mass murder. The film aspires to become a timeless reflection on the boundaries between science and pseudoscience in the present day, in the past and in the future.
FATHER / TĖVAS
Director: Marat Sargsyan
Country: Lithuania
Producers: Dagnė Vildžiūnaitė, Jonas Špokas
Director of photography: Linas Dabriška
Film length: 60 min
Stage of development: post-production
Estimated date of premiere: October 2012
Synopsis
Vidas Zenonas Antonovas has been recorded in the book of the most interesting criminals of the Soviet Union. He stole around a million roubles from the state's institutions. Together with his accomplices, he hijacked a plane with passengers in order to split for Africa. He has been nicknamed "The Father of Mafia". He has spent 20 years of his life in 15 prisons. Now he is 71 and has a big family – 10 children, 2 grandchildren and a new-born son. "Father" is a documentary about the values of an ex-con, about one man's challenging times and destiny, about the drives of an insatiable lust for life. It is a love story of one family. There are neither romantic moments nor miraculous changes. But there is a strong potential to change our understanding of what a happy and loving family is or could be.
THE OTHER SIDE OF EVERYTHING / DRUGA STRANA SVEGA
Director: Mila Turajlic
Country: Serbia
Producer: Iva Plemic Divjak
Director of photography: Mila Turajlic
Film length: 52/75 min
Stage of development: production
Estimated date of premiere: March 2013
Synopsis
In an apartment in Belgrade there is a door that has not been opened in 65 years. This is the story of what is behind it. THE OTHER SIDE OF EVERYTHING combines a family memoir with the portrait of a country in turmoil, telling the story of a disillusioned revolutionary and her struggle with the ghosts haunting Serbia's present. Ten years after a democratic revolution that resulted in the assassination of the prime minister, Serbia is poised to enter the EU, yet remains divided over its past and its future. This film takes us beyond the usual news reports and political analysis, by providing a keyhole look into everyday life. It focuses on the view of an ordinary person who was swept up into political events. Her life story plays out inside this divided apartment in the city centre which becomes a personal and political battleground. The backdrop to the story is provided by an incredible archive filmed from the apartment windows over a period of 5 years, which chronicles Serbia's public life from a personal point of view. A parallel story of a country unfolds, from the fight against communism, to the struggle against Milosevic, bringing us into a present marked by disillusionment and defeat. What does it take to open a door?
ALBERT CINEMA
Director: Agnieszka Zwiefka
Country: Poland
Producer: Chilli Productions
Director of photography: Aleksander Duraj
Film length: 72 min
Stage of development: production
Estimated date of premiere: January 2013
Synopsis
Homeless men from the Brother Albert's shelter are shooting films in which they are the actors, scriptwriters, directors and cinematographers. Their films have official premieres with red carpets and alcohol-free champagne. To the homeless filmmakers, meetings with their spectators are more important than Oscar ceremonies, especially when they see their families for the first time after years and sometimes miracles happen. "Albert Cinema" follows this unusual group during the shooting of their latest film while showing their everyday life and everyday problems. The main protagonist is Leszek, a man with a natural talent and a very complicated character. He has one big dream; to see his son with whom he has lost contact over 25 years ago. Leszek hopes that the premiere of his next film can also become a moment of reunion. For his son he is recording a touching video-letter.
CAIN'S CHILDREN / KÁIN GYERMEKEI
Director: Marcell Gerő
Country: Hungary
Producer: Sára László
Director of photography: Rudolf Péter Kiss
Film length: 90 min
Stage of development: pre-production
Estimated date of premiere: May 2013
Synopsis
Their faces are those of angels; yet they have killed. They have paid for their crimes and today, with the mark of Cain on their forehead, they try to find their place in a society that has rejected them. Six teenagers between 15 and 18 years of age are sentenced to 8 to 15 years in prison for murder. They are at the height of suffering and are sent to hell, to the prison of Tököl in central Hungary, during the communist era. When they are released, the wall has fallen, they are "free". But how can one survive with this legacy of suffering? In 1984, they were listened to and filmed, though not judged, by Monory-Mész András whose impartial view on them has incredible strength. 27 years later, he wishes to let them express themselves. Hungary as seen through the eyes of Cain's children, a voyage (or simply a life) in hell.
THE GREATEST WISH / NEJVĚTŠÍ PŘÁNÍ
Director: Olga Špátová
Country: Czech Republic
Producers: Adam Polák, Czech Television, DNA Production
Director of photography: Olga Špátová
Film length: 83 min
Stage of development: post-production
Estimated date of premiere: September 2012
Synopsis
The seemingly simple question "What is your greatest wish?" provokes the respondents to formulate their value system. The Greatest Wish loosely follows up the eponymous classics of Czech documentary filmmaking by Jan Špáta from 1964 and 1989. In these films Jan Špáta mapped the dreams and attitudes of young people at key times of the totalitarian era. Twenty years later, his daughter Olga Špátová has picked up where he left off, providing insight into her own generation. She chose schools, prisons, institutions, demonstrations, the city and the countryside as vantage points from which to examine this topic; the film's scope takes in birth and death. The Greatest Wish is an essay about young people; about their hopelessness and also their will to find meaning in life or the ubiquitous longing for love.
FRAGILE IDENTITY / KREHKÁ IDENTITA
Director: Zuzana Piussi
Country: Slovakia, Czech Republic
Producers: Radim Procházka / Produkce Radim Procházka s.r.o (CZ) , Zuzana Piussi / Ultrafilm (SK)
Director of photography: Zuzana Piussi
Film length: 75 min
Stage of development: production
Estimated date of premiere: October 2012
Synopsis
In Fragile Identity, original Slovak director Zuzana Piussi examines her fellow countrymen's current notion of their nationality. She expresses her concern that Slovak national sentiment is rather fragile and liable to political misuse. Her protagonists often reject the leading Czech figures of Czechoslovak history and rather look for their national roots in the common "pre-national" past of Great Moravia. Although many of the stories are rather tragicomic, the turbulent development of united Europe has proved that the search for one's own identity is fragile not only in Slovakia.
PIPELINE / TRUBA
Director: Vitaly Mansky
Country: Germany / Czech Republic / Russia
Producers: Simone Baumann (Saxonia Entertainment), Filip Remunda (Hypermarket Film), Vitaly Mansky (Vertov Studio)
Director of photography: Alexandra Ivanova
Film length: 90 min
Stage of development: production
Estimated date of premiere: Spring 2013
Synopsis
In front of a black background, the opening titles appear. We hear unusual and mysterious noise, which is getting louder and louder. As the dark background is getting lighter, orange-colored plumes of smoke become gradually visible. They are shedding light onto burnt, black tree trunks. The viewer is slowly realizing that the camera is revealing blazing flames. The noise slowly fades into solemn music.
HISTORY