Inspiration Forum LAB
The Inspiration Forum LAB is an interdisciplinary research program designed to provide a space where artists and scientists can meet and work together on creating research-based multimedia art projects. The aim is to combine the scientific and artistic language to find ways of expression that could communicate to audiences beyond the boundaries of each of these two worlds.
EDIT: The deadline for application submission has been extended to Friday, September 17, 2021.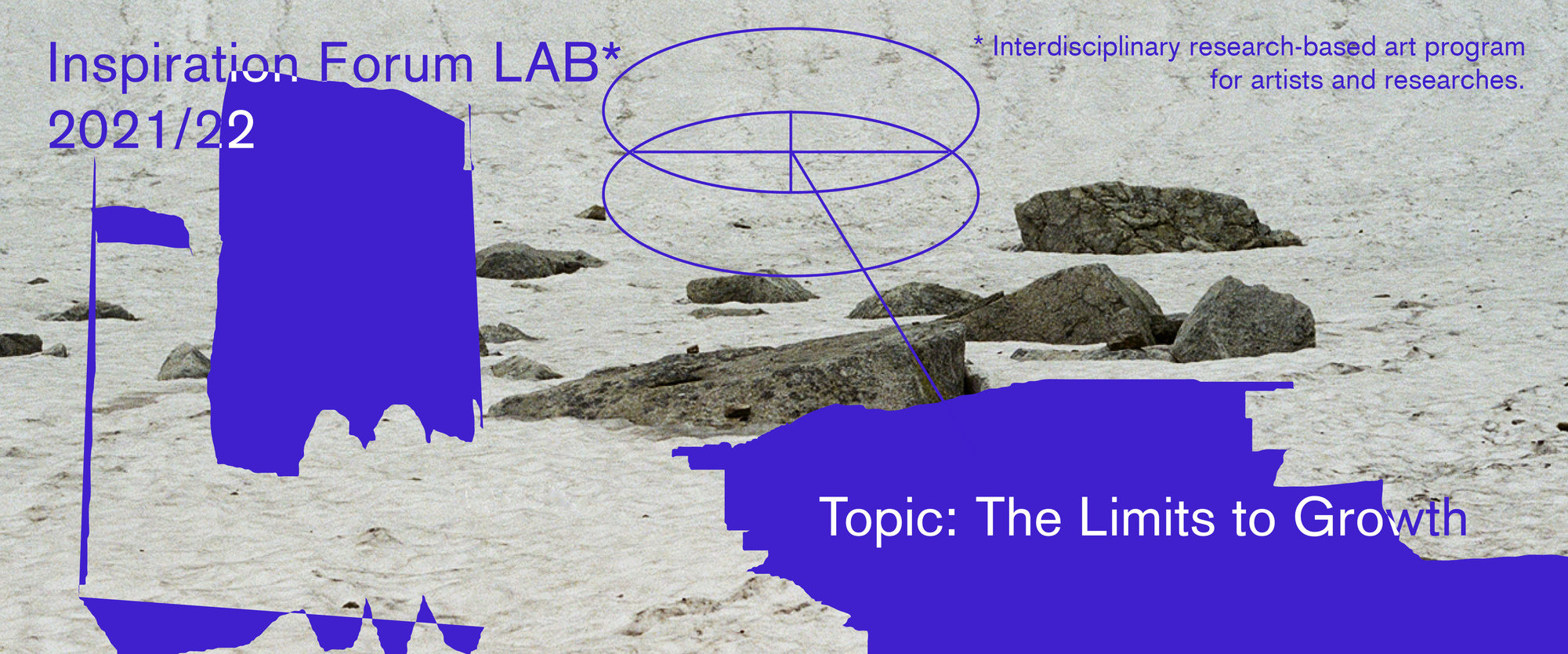 Call for applications
Ji.hlava IDFF's Inspiration Forum and Display - Association for Research and Collective Practice invite European artists, filmmakers, designers, scientists, researchers, and experts from other fields to join us in looking for imaginative solutions to the structural problems of European society, which is facing challenges posed by changes in the ecological, political, technological, and social landscapes, and propose alternatives to current developments that will contribute to shaping sustainable and collective futures.
We welcome applicants who are eager to ask fundamental questions about the predominant narratives we exchange about the world and our role in it. Similarly, we encourage those who are interested in a transdisciplinary and collaborative approach combining science, technology, and the arts.
Selected participants will develop both theoretical and technical skills through a set of expert lectures and technical workshops. Working in two interdisciplinary groups, the participants will also conduct collaborative research in order to develop concepts for their multimedia art projects. The final projects will be presented in the Display Gallery and at the Ji.hlava International Documentary Film Festival.
Topic of IF LAB 2021/22
"The Limits to Growth" is not just a name of the legendary 1972 Club of Rome report by Donella H. Meadows and her research collective, but also an intriguing proposition and call to action. It suggests that there are limits to the way our societies and economies can behave - but what is a limit? An obstacle? An opportunity to focus? A productive constraint? And how many types of growth are there? Is growth needed at all? What is the shape of society or economy that can fit these limits, both literally and metaphorically?
These questions navigate the research trajectory of the Inspiration Forum LAB 2021/22. It appreciates the conceptual richness and historical importance of the original Club of Rome report, which will mark its 50th anniversary in 2022, and it examines the scientific "vibe" of the Earth system science together with infrastructures as well as institutions that generate and use knowledge about our planet and its limits. It means that science is here approached both as a tool and as an object of study - an object that can be critically questioned about what realities does it help to construct, prevent or even destroy.
Key Program Tutors
Over the course of the program, the participants will be guided by and will be able to consult their projects with two Tutors: Zbyněk Baladrán and Lenka Hamošová. The expert lectures will be programmed by the Head of Studies Lukáš Likavčan.
Zbyněk Baladrán
An author, artist, curator and exhibition architect. In his works he is investigating territories that are occupied by that part of civilization, which we call Western. Using methodology similar to those used by the ethnographer, the anthropologist and the sociologist, this post-humanist "archaeologist" is digging up the remnants of the not-so-distant past.
He studied art history in the Philosophy Department of Charles University and in the studios for Visual Communication, Painting and New Media at the Academy of Fine Arts, both in Prague. In 2001 he co-founded Display – Association for Research and Collective Practice, where he works as a curator and researcher. He was a member of the curatorial team (through tranzit.org) of Manifesta 8 in Murcia, Spain (2010) and took part in the 11th Lyon Biennial, in Manifesta 5 in Donostia / San Sebastian (2004), in the 56th La Biennale di Venezia (2013) and in MoMA (2015).
→ Web page
Lenka Hámošová
A designer, researcher, and visual artist. In her work she is researching synthetic media and their use in audiovisual production within the doctoral study at Film and TV School of Academy of Performing Arts in Prague - FAMU. She is the initiator of the educational project Collective Vision of Synthetic Reality, which spreads awareness of available AI models and opens a discussion on the future use of artificial intelligence through interdisciplinary workshops.
Hámošová is an alumna of Sandberg Institute / Masters Rietveld Academie in Amsterdam and Academy of Fine Arts in Bratislava. She teaches at MA Future Design, Prague College, and is a co-founder of the UROBOS art/design festival.
→ Web page
Lukáš Likavčan
A philosopher focused on technology, ecology and visual cultures. As a researcher, he was based at Wirtschaftsuniversität Wien (Vienna), The Hong Kong Polytechnic University (Hong Kong) and BAK, basis voor actuele kunst (Utrecht).
Likavčan is a lecturer at Center for Audiovisual Studies FAMU (Prague), faculty member at Strelka Institute for Media, Architecture and Design (Moscow) and a member of Display – Association for Research and Collective Practice (Prague). He is a co-editor of Czech anthology of contemporary philosophical realism Mysl v terénu. Filosofický realismus ve 21. století (Display / VVP AVU, 2018), and an author of Introduction to Comparative Planetology (Strelka Press, 2019).
→ Web page
Who are we looking for?
● 8 participants from the European countries with various backgrounds (artists, film makers, architects, designers, social scientists, environmentalists, technology innovators, etc.), who will create two groups. Each interdisciplinary team will include members with background in technology or natural sciences, social sciences and art.
● Age: 25–40 (recommended)
● Fluent in English
Conditions
● The IF LAB program will run for seven months (from October 2021 through April 2022) and will be followed up by presentations of the projects in spring/summer and fall of 2022
● Lectures and workshops will take place in Prague, Jihlava, and online
● Each participant will receive a stipend of € 500
● Each group will work with a production budget of € 1200 and can spend additional € 500 for tech rentals or expert consultations
Key Dates & Deadlines
Application opens: May 24, 2021
Application deadline (extended): September 17, 2021
Notification of selection: week of September 27, 2021
IF LAB schedule
Introductory meeting with tutors: between September 27 and October 1, 2021
Part I: October 26-November 1, 2021 / 6 full intensive days
Part II: November 2021-January 2022 / 5 expert lecture, 2 tutor consultations, research & development of projects
Part III: February-April 2022 / production of projects, technical consultations, final presentation
Presentation in the Display gallery: May/June 2022
Presentation at Ji.hlava IDFF: October 2022
Application
All material must be in English
● Completed application form*
● CV/portfolio detailing work to date (PDF, should include recent work relevant for the LAB's direction)
● Motivation letter (PDF, should explain why you are interested in the topic of the IF LAB, as well as participating in an interdisciplinary project)
* If you do not have an account in our database, please, fill in your basic identification information and select a password. Your registration will make further communication with the Ji.hlava IDFF and the Inspiration Forum easier. You will be able to use your account in the future as well. After registration, you will be able to access the "Inspiration Forum LAB 2021/22" form.
If you have any questions, contact us at if@ji-hlava.cz.
Data Policy
By submitting an application, you accept our data policy in accordance with the GDPR.
Conclusion
Your application and participation implies unconditional acceptance of these rules and regulations. The organisers reserve the right to change the rules and regulations or processes at any time and without notification.
The Inspiration Forum LAB is organized by Ji.hlava IDFF's Inspiration Forum and Display - Association for Research and Collective Practice.
The project is supported by the European Cultural Foundation.