Inspiration Forum LAB
The Inspiration Forum LAB is an interdisciplinary research program designed to provide a space where artists and scientists can meet and work together on creating research-based multimedia art projects. The aim is to combine the scientific and artistic language to find ways of expression that could communicate to audiences beyond the boundaries of each of these two worlds.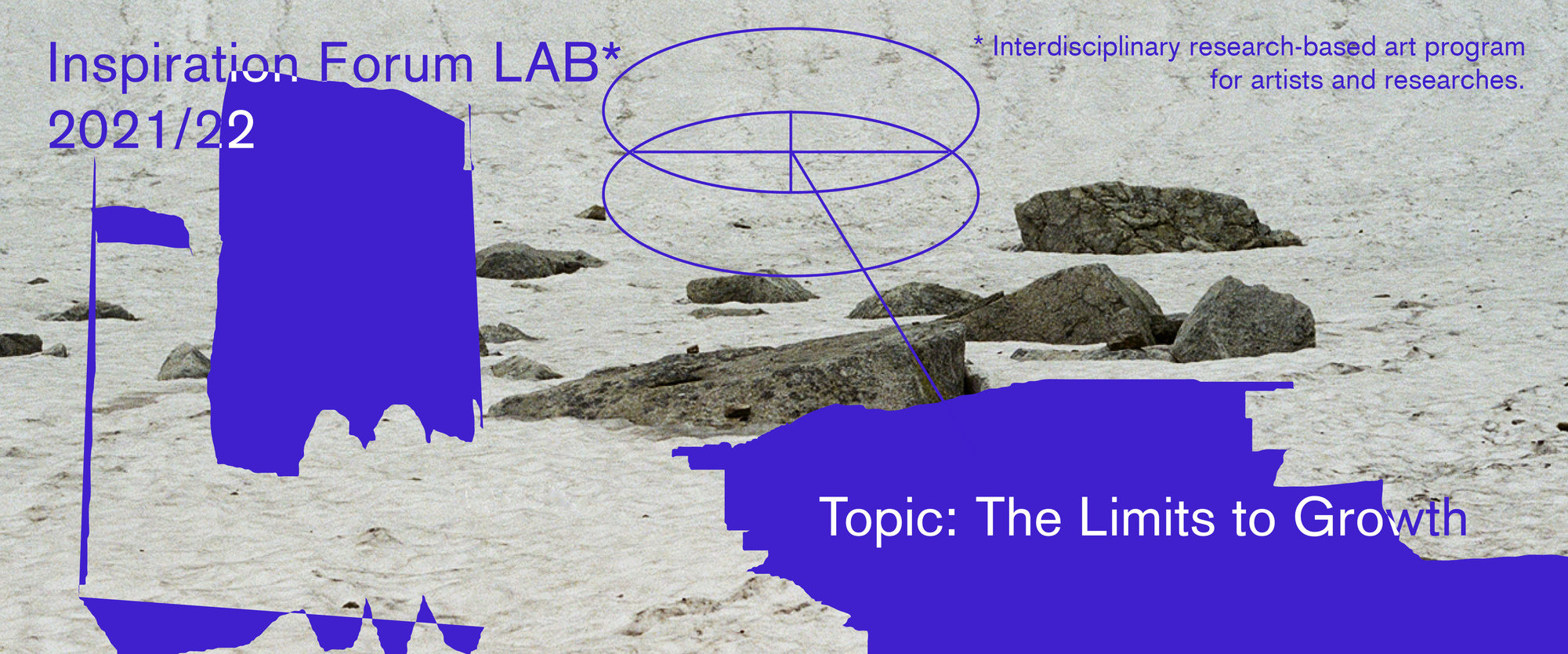 Topic of IF LAB 2021/22
"The Limits to Growth" is not just a name of the legendary 1972 Club of Rome report by Donella H. Meadows and her research collective, but also an intriguing proposition and call to action. It suggests that there are limits to the way our societies and economies can behave - but what is a limit? An obstacle? An opportunity to focus? A productive constraint? And how many types of growth are there? Is growth needed at all? What is the shape of society or economy that can fit these limits, both literally and metaphorically?
These questions navigate the research trajectory of the Inspiration Forum LAB 2021/22. It appreciates the conceptual richness and historical importance of the original Club of Rome report, which will mark its 50th anniversary in 2022, and it examines the scientific "vibe" of the Earth system science together with infrastructures as well as institutions that generate and use knowledge about our planet and its limits. It means that science is here approached both as a tool and as an object of study - an object that can be critically questioned about what realities does it help to construct, prevent or even destroy.
IF LAB 2021/22 Fellows
Giulia Faccin
Visual storyteller / IT

Hana Komanová
Biodesigner / SK

Burak Korkmaz
Information designer & researcher / DE

Jitka Králová
Social anthropologist / CZ

Jaroslav Michl
Philosopher & cultural theorist / CZ

Pedro F. Neto
Anthropologist, architect and filmmaker / PT

Ján Skaličan
Visual artist / SK

Karolína Žižková
Environmental anthropologist / CZ
Program Tutors
Over the course of the program, the participants will be guided by and will be able to consult their projects with two Tutors: Zbyněk Baladrán and Lenka Hamošová. The expert lectures will be programmed by the Head of Studies Lukáš Likavčan.
| | | | |
| --- | --- | --- | --- |
| | | | |
| Zbyněk Baladrán | Lenka Hámošová | Lukáš Likavčan | |
Zbyněk Baladrán
An author, artist, curator and exhibition architect. In his works he is investigating territories that are occupied by that part of civilization, which we call Western. Using methodology similar to those used by the ethnographer, the anthropologist and the sociologist, this post-humanist "archaeologist" is digging up the remnants of the not-so-distant past. He studied art history in the Philosophy Department of Charles University and in the studios for Visual Communication, Painting and New Media at the Academy of Fine Arts, both in Prague. In 2001 he co-founded Display – Association for Research and Collective Practice, where he works as a curator and researcher. He was a member of the curatorial team (through tranzit.org) of Manifesta 8 in Murcia, Spain (2010) and took part in the 11th Lyon Biennial, in Manifesta 5 in Donostia / San Sebastian (2004), in the 56th La Biennale di Venezia (2013) and in MoMA (2015). → Web page
Lenka Hámošová
A designer, researcher, and visual artist. In her work she is researching synthetic media and their use in audiovisual production within the doctoral study at Film and TV School of Academy of Performing Arts in Prague - FAMU. She is the initiator of the educational project Collective Vision of Synthetic Reality, which spreads awareness of available AI models and opens a discussion on the future use of artificial intelligence through interdisciplinary workshops. Hámošová is an alumna of Sandberg Institute / Masters Rietveld Academie in Amsterdam and Academy of Fine Arts in Bratislava. She teaches at MA Future Design, Prague College, and is a co-founder of the UROBOS art/design festival. → Web page
Lukáš Likavčan
A philosopher focused on technology, ecology and visual cultures. As a researcher, he was based at Wirtschaftsuniversität Wien (Vienna), The Hong Kong Polytechnic University (Hong Kong) and BAK, basis voor actuele kunst (Utrecht). Likavčan is a lecturer at Center for Audiovisual Studies FAMU (Prague), faculty member at Strelka Institute for Media, Architecture and Design (Moscow) and a member of Display – Association for Research and Collective Practice (Prague). He is a co-editor of Czech anthology of contemporary philosophical realism Mysl v terénu. Filosofický realismus ve 21. století (Display / VVP AVU, 2018), and an author of Introduction to Comparative Planetology (Strelka Press, 2019). → Web page
Guest Lecturers
Bedřich Moldan
Czech geochemist, ecologist, publicist and politician, who played an important role in the creation of Czech environmental legislation after November 1989. He is regarded as one of the most important representatives of the Czechoslovak and Czech environmental schools. Moldan is a world-renowned expert in analytical chemistry, biochemistry and the environment. He influenced several generations of environmentalists through his extensive pedagogical, journalistic, political and diplomatic activities and significantly contributed to the establishment of the legal system of environmental protection in the Czech Republic. He was the first Czechoslovak (and Czech) Minister of the Environment and the principal translator of The Limits to Growth - The First Report of the Club of Rome.
Holly Jean Buck
Postdoctoral research fellow at UCLA's Institute of the Environment and Sustainability. She's interested in how communities can be involved in the design of emerging environmental technologies. She works at the interface of environmental sociology, international development, and science and technology studies. At present, she is studying how technologies to remove carbon dioxide from the atmosphere might affect landscapes in the central US, and how policy for scaling up carbon dioxide removal can be designed for community benefit. Her book After Geoengineering: Climate Tragedy, Repair, and Restoration examines best-case scenarios for carbon removal. She has written on several aspects of climate engineering, including humanitarian and development approaches to geoengineering, gender considerations, and human rights issues. She holds a doctorate in Development Sociology from Cornell University and a MSc in Human Ecology from Lund University, Sweden.
Birgit Schneider
She holds a PhD in cultural studies and is currently a professor of media ecology at the Potsdam University Institute for Arts and Media in the European Media Studies program. She studied art history and media studies, philosophy, and media art at the Karlsruhe University of Arts and Design, Goldsmiths College in London, and the Humboldt University of Berlin. Her research focuses on technical and scientific images with a strong emphasis on questions of scientific imagery, mediality, codes, diagrams, and textility from the seventeenth century to the present. Her current research concentrates on the visual communication of climate since 1800 and a genealogy of climate change visualization between science, aesthetics, and politics.
Margret Grebowicz
Polish philosopher, essayist, and author of Whale Song, The National Park to Come, Why Internet Porn Matters, Beyond the Cyborg: Adventures with Donna Haraway (together with Helen Merrick). and Mountains and Desire: Climbing vs. the End of the World, as well as numerous articles on environmental imagination, gender and sexuality, and wilderness. Her recent essays have appeared in The Philosophical Salon and The Atlantic. She is currently associate professor at the University of Silesia, Poland and Visiting Faculty and Resident Scholar in Situated Philosophy at the Center for Philosophical Technologies at Arizona State University for 2020-21.
The Inspiration Forum LAB is organized by Ji.hlava IDFF's Inspiration Forum and Display - Association for Research and Collective Practice.
The project is supported by the European Cultural Foundation.