Previous editions of IF
"The Inspiration Forum of the Jihlava Documentary Film Festival attempts to bring lively thinking into the interstices of the festival. It is usually staged in the form of a discussion, in which the diversity of opinions enlivens the topic, making it something worthwhile for us to stop, breathe and think about. Thinking is indeed a living movement, but it needs a stopping, a breaking out of the passage of time, to happen. In this, it is actually very much like a film, an illusion of continuous movement in which the movement (the image) is periodically interrupted precisely in order to move, to take place."

– Petr Fischer –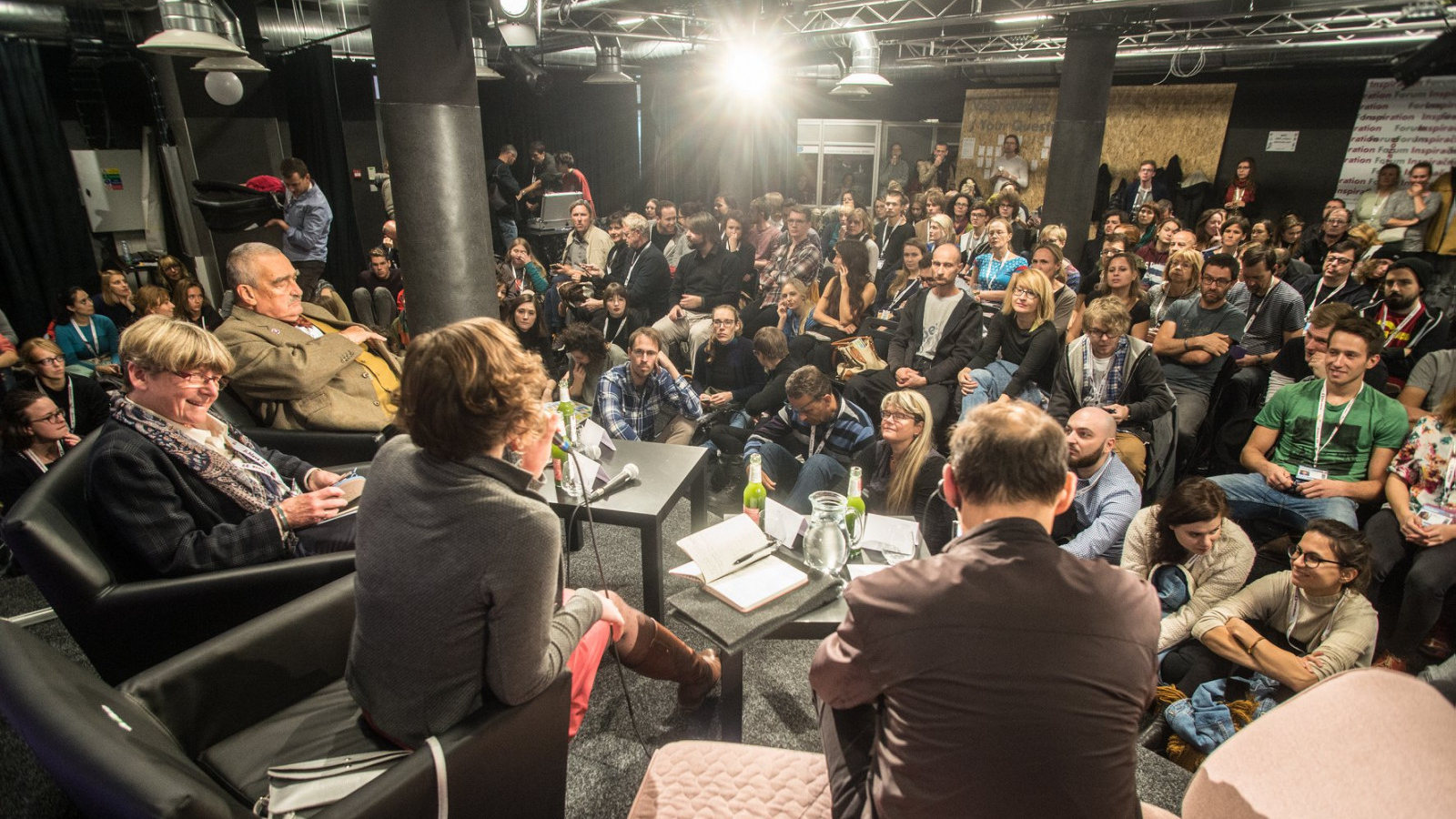 The Inspiration Forum has been a part of the Ji.hlafa IDFF since 2011, when it was established with the aim of connecting the film and non-film worlds in an original way and creating a space for discovering and initiating new topics and themes for documentary films. First as a five-day meeting of ten selected directors from all over the world with important personalities from outside the film world – scientists, writers, visual artists or philosophers. The festival audience could meet the guests of the forum in public lectures. Throughout the years, a number of personalities have discussed with the audience, including Chinese writer and Nobel Prize winner Gao Xingjian, American psychologist and author of the Stanford Prison Experiment Philip Zimbardo, and Turkish writer Tariq Ali, artists Sheila Kameric, Kateřina Šedá and Petr Pavlensky, the Femen group, Pussy Riot member Maria Alyokhina, Croatian playwright Oliver Frljić, Syrian refugee Osama Abdul Mohsen and WikiLeaks founder Julian Assange.

In 2018, the platform expanded into a six-day international discussion forum, during which festival-goers, filmmakers and Jihlava residents can engage in dialogue with each other, debate with Czech and international guests and sort out their thoughts.

The new model of the forum brought the division of days into individual topics and new discussion formats such as the monologic Inner World, in which artists present what has fundamentally inspired them in their life and work, documentary dialogues that open up new controversial perspectives, or the evening video program.

The main programme is accompanied by other projects such as the IF NEWS workshop for aspiring journalists, the children's debate programme Tales of the Today's World or the Screenshot podcast series which offers a more comprehensive look at the work and ideas of selected guests of the past Inspiration Forum.

Inspiration forum 2022

Last year's Inspiration Forum focused on the events in Ukraine, society moving online, the limits to growth, what happens when we put the brakes on growth and also freedoms that are often still only on paper.

Among the guests were Giorgos Kallis (GR), ecological economist, Dorottya Rédai (HU), gender studies theorist and activist, Kiri Dalena (PHL), artist, documentary filmmaker and human rights activist, Jennifer Hinton (USA) ecological economist Total Refusal (AU) pseudo-Marxist media guerrilla, Patricia Churchland (CAN), neurophilosopher, Anna Ackermann (UA) political analyst and energy security expert, Illia Ponomarenko (UA), Kyiv Independent reporter, Oksana Stomina (UA), poet and writer, Aaron Benanav (USA), economic historian and social theorist, András Cséfalvay (SK), visual artist, Ben Tarnoff (USA), writer and journalist, Miki Kashtan (USA), lecturer in non-violent communication, Daniel Bunda (SK), counsellor for adopted Romani children growing up in a non-Romani environment, Jan Drtina (CZ), professional advisor in a non-profit organisation RUBIKON Centrum, Eliška Koldová (CZ), feminist and publicist, Dominika Lasota (PL), climate justice activist, Matthias Oaks (CZ), student of University of Chemistry and Technology focusing on wellbeing of LGBTQI+ students, Sara Polak (CZ), anthropologist and archaeologist of artificial intelligence, and others.

More about IF 2022 and a digital archive with recordings of all discussions can be found here and a photo gallery here.

Inspiration forum 2021

The last edition of the Inspiration Forum focused on mental health, equality and inequality, how digital technology can help create a more just and fair world, the relationship between humans and nature, and, in the online programme, post-election challenges for the Czech Republic.

Among the guests were David Abram, cultural ecologist and philosopher, Sahraa Karimi, Afghan filmmaker, Judith Butler, philosopher and gender theorist, Nick Srnicek, expert on digital economy, Carlota Sanz Ruiz, economist, co-founder of the Doughnut Economics Action Lab (DEAL), Bruce D. Perry, ​neuroscientist and psychiatrist, Timo Daum, expert on digital economy and lecturer in informatics and digital transformation, Andreas Weber, biologist, philosopher and writer, Jiří Sádlo, biologist, Sandra Silná, Hussite parish priest, Martin Mareček, film director and educator, Rebecca Day, producer and psychotherapist, Irena Taskovski, film producer, Marta Balaga, film critic, M'Badjala Diaby, author of the poetry collection Na Hraně, Klára Laurenčíková, special educator and chair of the Government Committee for the Rights of the Child, Jiří Kylar, chairman of the association Někdo ti uvěří (Someone Will Believe You), Petr Třešňák, journalist, Mira Babiaková, psychiatrist, Libuše Jarcovjáková, photographer and educator, Vera Lacková, filmmaker and producer, Vojta Lavička, musician, activist and journalist, and many others.

More about IF 2021 and a digital archive with recordings of all discussions can be found here.

Inspiration Forum 2020

The tenth edition addressed the future of food production in the context of landscape management or the invisible technologies that play an increasingly crucial role in our lives through automated algorithms. It also looked at the status of women in the Church or the dynamic transformations of the African continent. It also offered reflections on how to transform a moment of crisis into an opportunity to think of new ways and find solutions for the future of education, the climate situation, and society in general. One of the program blocks also dealt with life's crossroads, difficult decisions and personal responsibility.

Guests of the tenth edition included Philipp Staab, sociologist and expert on digital technologies, Jessica Fanzo, American professor of global food ethics, Ndoni Mcuni, South African expert on sustainable agriculture, Peter Tinti, American journalist and analyst on migration, Ingerid Straume, Norwegian educational theorist, Colectivo LasTesis, Chilean feminist collective, Ladislav Miko, environmentalist, Anna Gümplová, vice-president of the Green Party and climate activist, Marek Szolc, Polish lawyer, public policy advisor and sustainability expert, Dorotea Heczková and Magdalena Hrdličková / Homeless Cooks, an organisation working on women's homelessness, Jan Krajhanzl, social and environmental psychologist, Diana Cam Van Nguyen, Czech-Vietnamese filmmaker, artist and animator, Le Hong Thai, psychiatrist, and others.

More about IF 2020 and a digital archive with recordings of all discussions can be found here.

Inspiration Forum 2019

The ninth edition focused on the search for new democratic models, the transformation of the role of women in society, or the direction of the Church in the third millennium. It offered an in-depth look at contemporary China and Chinese society. It also addressed climate change, asking what changes are needed in politics, industry, agriculture, or the very lifestyle of each of us?

Guests at the ninth edition included Sophie Howe, Future Generations Commissioner for Wales; Bill McKibben, American climate scientist; Francisco Cantú, writer and former US Border Patrol agent; Kapka Kassabova, poet and writer of Bulgarian origin; Sini Harkki, Finnish climate activist; Dariusz Karlowicz, Polish philosopher, publisher and journalist, Kateřina Šimáčková, Judge of the Constitutional Court of the Czech Republic, Stein Ringen, Norwegian sociologist and political scientist, Srećko Horvat, Croatian philosopher and political activist, Fawzia Koofi, Afghan politician and writer, Karolína Koubová, Mayor of Jihlava, Daniel Prokop, sociologist focusing mainly on social inequality, poverty and changes in public opinion, and others.

Inspiration Forum 2018

During the eighth edition, we explored the future of education, asking how the media and journalism as a whole are changing with the rise of digital technology and social media. We looked at the crisis of left-wing politics or the transformation of Central Europe. And we looked at the dividing line between human and artificial intelligence, the intersections and the changing status of humans in the world of artificial intelligence.

Speakers at the eighth edition of the forum included John Tusa, Czech-British journalist and historian; Agata Pyzik, Polish journalist and cultural theorist; Aleksandra Przegalinska, Polish scholar in the field of new technologies; David D Omni, Cuban musician; Emiliana Rodríguez Morales, Mexican scholar and educationist; Robert Misik, Austrian writer, journalist and curator; and Adam Michnik, Polish journalist, historian and writer, Neal Lawson, British political commentator, Ladislav Heryán, Czech priest, educator, translator and writer, Anna Pospěch Durnová, Czech political scientist, Federico Díaz, artist of Czech-Argentine origin, Milena Bartlová, Czech art historian and journalist, Tadatoshi Akiba, Japanese mathematician and former mayor of Hiroshima, and others.