Czech Joy in the Spotlight
Presentation and short previews of brand new Czech documentary films selected to the festival's Czech Joy competition section, introduced by their authors.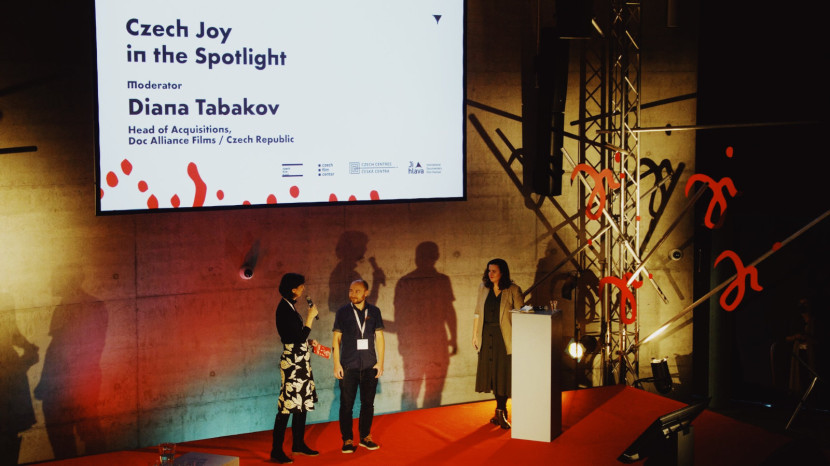 The presentation was focused primarily for international audiences – representatives of dozens of film festivals attended the 26th Ji.hlava, sales agents and other film professionals. The new Czech film projects was presented personally by their authors. The event was held in English without interpretation, and was broadcasted also online on Vimeo and Facebook.
The presentation is organised by the Ji.hlava IDFF in cooperation with the Czech Film Fund and the Czech Centers.
SELECTED PROJECTS 2022
========
a-B-C-D-e-F-G-H-i-JONESTOWN
Director: Jan Bušta
Producer: Radim Procházka
DOPs: Michal Černý, Jan Kundera
Runtime: 76'
World premiere: Ji.hlava IDFF

Synopsis: A children's film about the largest mass suicide of the 20th century reconstructs the 1978 event. The Reverend Jim Jones forced nearly a thousand followers of his People's Temple sect to drink poison in the settlement of Jonestown, Guyana, South America. A third of them were children. Jan Bušta gives sadists, voyeurs, and necrophiliacs one minute to leave the cinema. His self-reflective documentary, which is the result of ten years of time-lapse filming, does not depict dramatic scenes. To the sound of an audio recording from that fateful day, we see a collage of child ghosts preaching about escaping the corruption of the world.

Production Company: Kuli Film

CITIZEN MIKO
Director: Robin Kvapil
Producer: Martina Štrunc
DOPs: Stanislav Adam, Šimon Dvořáček, Robin Kvapil, Petr Salaba, David Šachl, Jan Šípek, Tomáš Uhlík
Runtime: 75'
World premiere: Ji.hlava IDFF

Synopsis: Miko is a truck driver, his father is Romani, and above all he is a man who wanted to help those in need. When the Czech government was looking for reasons not to take in a few dozen children from Greek refugee camps after the chemical attacks on Syrian civilians in 2018, Miko took justice into his own hands and, together with the Czechs Helping initiative, prepared facilities for child refugees. However, government officials gave priority to political interests. Will parliamentary elections and a change of ministries save the situation? An unflattering but accurately portrayal of the Czech Republic as a country that will only offer a helping hand when it is worthwhile.

Production Company: Silk Films

DARKENING
Director: Ondřej Moravec
Producer: Hana Blaha Šilarová
Format: VR
Runtime: 25'
World premiere: Venice IFF

Synopsis: A visually arresting interactive exploration of a space that represents the recesses of the mind and soul, lost in the dips of depressive and anxious states. The autobiographical narrative is a composition of fragments of stories and descriptions of inner turmoil, drawing the audience into an elaborate world of sometimes illustrative, sometimes metaphorical animations and ingenious sound design to understand the causes and experience of depression, the struggle to break out of its darkness, and the feelings of futility and heaviness. Open, almost diaristically intimate notes navigate the journey through rooms, floors and different environments that embody the manifestations of inner heaviness.

Production Company: Frame Films

FOUND BY THE ONE SHE SEEKS
Director: Petr Michal
Producer: Petr Michal
DOP: Jakub Vrbík
Runtime: 41'
World premiere: Ji.hlava IDFF

Synopsis: Petr Michal's meditative documentary follows the current life of an esteemed Czech literary translator, Anna Karenina. The film largely treats the relationship with her late husband, poet Petr Kabeš, and the feeling of loneliness she has been facing since his death. It is definitely not a conventional documentary portrait, since the director does not ask questions, and instead lets Karenina voice out her thoughts and feelings, observing her with a casual camera during work or on her mountaineering trips. The film also serves as an implicit proof of love to analogue medium: not only the book, but analogue film as well, with its invisible, yet almost tangible features.

Production Company: Petr Michal

FROM THE BOTTOM
Director: Tereza Vejvodová
Producer: Jan Bodnár
DOP: Petr Racek
Runtime: 63'
World premiere: Ji.hlava IDFF

Synopsis: Even before the pandemic, there were almost 24,000 homeless people in the Czech Republic. In the following months, many more Czechs faced housing crisis due to the increase in the unemployment rate. Filip, a social work student from Prague experiences their reality first hand. The protagonist of a video journal was shooting in the streets of Ústí nad Labem. In the hot summer days, his existence shrank to finding a mere place to sleep and a meal to eat. Growing tiredness and apathy are temporarily brightened by joyful moments of human solidarity and warm meals. In such circumstances, things like that are not at all common; they represent a means of survival.

Production Company: Tereza Vejvodová

GEN A: DO WHAT YOU LOVE
Director: Kryštof Zvolánek
Producer: Matěj Kretík
DOP: Kryštof Zvolánek
Runtime: 83'
World premiere: Ji.hlava IDFF

Synopsis: Jakub Strach aka NobodyListen is a successful Czech DJ and music producer. A portrait of his life and work can be seen as a manifesto of the millennial club-going generation. After hundreds of shows and preparations for the upcoming, renowned Addict party, the DJ must deal with the consequences of inflicting a wound scarring his image. Footage from the club backstage mingles with scenes of everyday life in which NobodyListen ponders the dark sides of the club scene, like drugs and misogyny. During the shooting, the Covid pandemic strikes, revealing the insecurities of work in culture.

Production Company: Booking Agency s.r.o.

HAPPILY EVER AFTER
Director: Jana Počtová
Producers: Jakub Pinkava, Martin Hůlovec
DOP: Jakub Halousek
Runtime: 98'
World premiere: Ji.hlava IDFF

Synopsis: The film is an inquiry into contemporary forms of alternative models of partnerships that often put in doubt an image of today's families. For many protagonists, polyamory, open marriage or long-term lover-to-lover relationships present a fulfilling life style, but also a struggle with misunderstanding of the society or conflicts within their own relationships. The director follows the development of relations of her protagonists over several years, while in intimate talks, she searches for the joy, striving and insecurities brought along by such unusual faces of love, revealing a need for redefining partnership in our times.

Production Company: Punk Film s.r.o.

HOMIES
Director: Jan Foukal
Producers: Silvie Michajlova, Ondřej Zima, Jan Foukal
DOPs: Jan Foukal, Albert Romanutti
Runtime: 74'
World premiere: Ji.hlava IDFF

Synopsis: In a small Prague apartment, a director waits out a coronavirus lockdown with his friend, a fellow musician who's just left his girlfriend. By observing their actions whilst in home isolation, the reality of time slowly passing by in a pandemic spent looking out the window, cooking, and being bored is revealed. The film consists of shots of their everyday life, and they shake things up with playing music, singing, boozing, and debating about the difficulties of romantic relationships. This melancholy home video of two people cooped up inside their own four walls thus opens up more general questions about the human need for social interaction and sharing one's life with someone.

Production Company: Film Kolektiv

INVISIBLE LANDSCAPES
Director: Ivo Bystřičan
Producer: Tereza Swadoschová
DOP: Matěj Piňos
Runtime: 48'
World premiere: Ji.hlava IDFF

Synopsis: This documentary film, which is based on the field-recording research method, gives space to the physical places where important energy, natural, and political processes take place. The director, musicians Václav Havelka and Pan Throrarensen, philosopher Lukáš Likavčan, and field-recordists Sara Pinheiro and Magnús Bergson all ask the question: "What are sounds that we don't attach any importance to in our everyday lives trying to tell us and how can they predict the sequence of events that affects our lives?" Here, sound becomes a tool that can oftentimes capture geological time better than an image.

Production Company: Era Productions s.r.o.

KAPR CODE
Director: Lucie Králová
Producer: Andrea Shaffer
DOPs: Adam Oľha, Jakub Halousek, Petr Příkaský, Tomáš Stanek, Martin Řezníček
Runtime: 91'
World premiere: Visions du Réel

Synopsis: This operatic documentary takes on an unconventional approach as it covers the life story of Czechoslovak composer Jan Kapr (1914–1988). The once-celebrated composer who was favored by the communist regime was, nonetheless, eventually silenced and erased from history during the 1970s. The film makes use of Kapr's musical scores as well as amateur film shots and, with the help of a playful Dadaist libretto, reveals his life and work, set against the backdrop of historical change. The behind-the-scenes footage from a choir recording deconstructs the biographical genre and shows us how difficult it can be to interpret archival material, memories, and linear narratives.

Production Company: Mindset Pictures

Sales: World Sales Lightdox

LEAVING TO REMAIN
Director: Mira Erdevički
Producers: Zuzana Mistríková, Martin Jůza, Lucie Wenigerová
DOP: Martin Jícha
Runtime: 91'
World premiere: Ji.hlava IDFF

Synopsis: Three Roma people living in England capture their days on camera as their lives are transformed by the combination of Brexit and Covid. Ondřej, who was consigned to a special needs school in Slovakia, wants to study psychology at college and be able to support his family. Denisa, the first British Roma lawyer, has to help migrants affected by Brexit while supporting her parents. Petr has been awarded an MBE for community policing, created community centres and now helps people with Brexit-related problems. When Covid closes Britain down, all three realise that immigrants must find their own resources to survive and are determined to give others the help that they have been given.

Production Company: Pubres

Co-producers: Spring Pictures, Krutart

PONGO CALLING
Director: Tomáš Kratochvíl
Producer: Radim Procházka
DOP: Tomáš Kratochvíl
Runtime: 78'
World premiere: Sheffield DocFest

Synopsis: Štefan Pongo and his family left the Czech Republic for Britain to escape racial stereotypes and discrimination. To have a normal life. And they did—that is, until he decided to respond on the internet to the racist rhetoric of Czech President Miloš Zeman. The truck driver's fate then took a major turn. The sensitively conceived personal and family portrait is a film-argument that juxtaposes simplistic, chauvinistic assessments with a full-blooded picture in which race issues are more of a problem to be solved than a lived reality. It tells the story of a journey there and back, across countries, beliefs, and our conscience.

Sales: Impronta Films

THE INVESTIGATOR
Director: Viktor Portel
Producer: Hana Blaha Šilarová
DOP: Šimon Dvořáček
Runtime: 73'
World premiere: Ji.hlava IDFF

Synopsis: Even after more than 25 years since the dreadful war crimes had been taking place in former Yugoslavia, this tragic history is far from over – be it for the victims' families, conflicting nations or for a Czech investigator who comes back to the region to carry on in his work after so many years. The documentary return voyage follows not only the paths of fleeing war criminals, but is driven by an effort to capture a part of the ethic mission of the then newly formed International Criminal Court in The Hague along, in its double nature: based on an independent investigation of war crimes, to strive for reconciliation in cases of multifarious ethnic, national and other conflicts.

Production Company: Frame Films