Sustainable Ji.hlava
With the climate collapse imminent, we are aware that sustainability is essential for the future of all of us. Acting sustainably, rather than to the detriment of future generations or other people, is to take collective responsibility, and this also applies to the Ji.hlava IDFF. We are gradually introducing social, environmental and economic sustainability measures into our work, the organisation of the festival and all our activities throughout the year.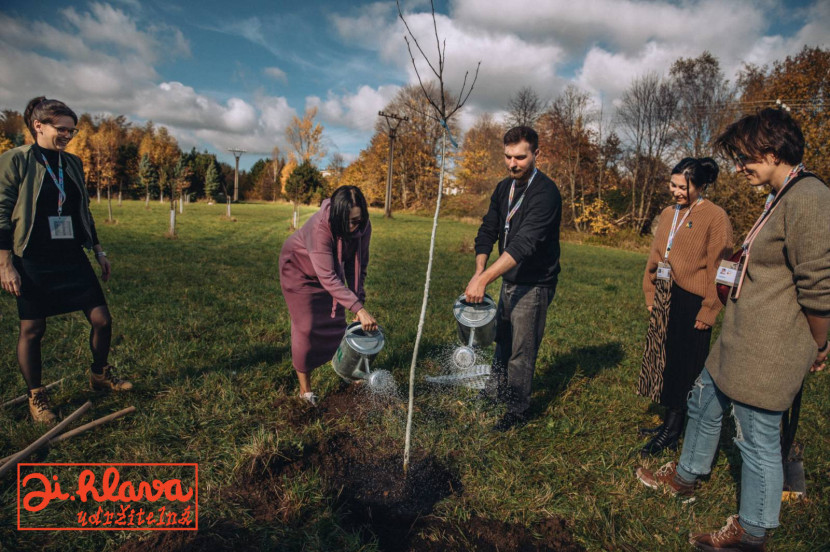 In 2019, we introduced the first sustainability measures and since then we have been working together with the environmental ombudsperson to prepare as environmental friendly festival as possible. Our ideal is a festival powered by renewable energy, using public transport, working with local suppliers and offering food with a high proportion of plant-based ingredients. We want to produce a minimum of waste and recycle it. This, and much more, is still ahead of us.
What has been already done?
Environmental ombudsperson
As of 2019, the festival team appointed its environmental ombudsperson. In 2022, Markéta Braun Kohl took on this position, helping us to best implement the individual measures of the social, environmental and economic sustainability agenda and to set important steps to be taken.
Catering
The festival buffets and refreshments served at festival events, as well as the catering for the staff, are vegetarian and the ingredients are sourced from local suppliers. We are very happy that every year we manage to establish cooperation with local suppliers who regularly supply us with Czech wine, beer, whisky and more.
Paper and printing
We have cut down on the number and quantity of festival printed materials, flyers, etc. At the same time, we use recycled and recyclable paper wherever possible and look for the best alternatives for each printed material. We do not print on chemically bleached papers. We sort the paper so it can be reused.
Festival passes
Starting with this year's 26th festival edition we re-use festival passes from previous years. Visitors can reuse their passes from previous years and a label will be attached to them at the accreditation desk for this year's festival edition. This will reduce the production of single-use festival passes. At the end of your stay, you can either keep your festival pass for next year or return it to the Accreditation Centre.
Transport and its monitoring
For many years we have been limiting individual transport by private cars. We make the most use of public transport by surface transport for festival guests and the festival team. We use minivans and larger cars to make the movement of guests to/from the festival more efficient. For transportation from larger cities, we recommend much more economical public transport for guests.
Instead of cars with combustion engines, we prefer electric cars. This year we have acquired two electric cars for our team and we want to increase their number in the future.
We are monitoring the mode of transport that the guests and visitors use to get to/from Ji.hlava in order to determine the overall carbon footprint of the festival. The energy and food consumption is quantifiable by our own means, but we need the help of visitors with the information regarding transportation.
We have arranged free public transport in Jihlava for all accredited visitors. In cooperation with Next Bike bike sharing, we offer free bike transport around the city for the first 15 minutes.
Green Ji.hlava
During the 23rd edition of Ji.hlava we planted an orchard with 23 trees and since then we have planted one new tree every year.
Electricity instead of diesel
We are now using electricity in the refreshment zone in front of DKO instead of diesel generators, which are usually used in similar one-off zones.
Waste sorting and recovery
We have reduced the quantity of waste that the festival produces. We carefully segregate all waste not only during the festival but also in the year-round office operations.
We encourage stallholders at the festival to reduce disposable packaging, sort leftover vegetables and fruit into brown bins for compostable waste and other waste for reuse. We do not use disposable plastic straws.
We continue to look for the best alternatives for beverage and food packaging.
Why are we still using PET packaging when there are compostable alternatives?
We use washable, reusable plastic cups for cold drinks.
Based on our consultations with experts, we decided to use PET plastic packaging for hot food. In Jihlava, it is currently not possible to arrange for environmentally friendly disposal of compostable trays, cutlery and cups for hot drinks – and they would end up in landfill.
As for PET packaging, it will become raw material for the production of other products after sorting.
How to sort waste at the festival?
There will be paper, plastic and general waste bins in the main areas. There will also be bins for food waste (blue bins), including leftover food, at the festival refreshment area in front of the DKO. If you receive food in a PET container, please remove the food scraps and put the container in the bin for plastic. Compostable and paper-based packaging is the second best alternative in terms of environmental impact during production and disposal. Once the food scraps are removed, they belong in general waste and go on a landfill where they will break down over time.
What you can do
We would be delighted if you could support us in our efforts to reduce the environmental impact of the festival. You can do this by replacing meat with vegetarian diet, helping us limit the use of food packaging and throwing it in the appropriate bins, using your own water bottle and, if you can, drinking tap water, or arriving by means other than by car.
Thank you for your help!
If you have any questions or ideas for improvement please contact eko@ji-hlava.cz.

This project was co-funded by the European Union's Single Market Programme.