Doc Alliance
Seven documentary film festivals collaborate to create new possibilities for documentary films.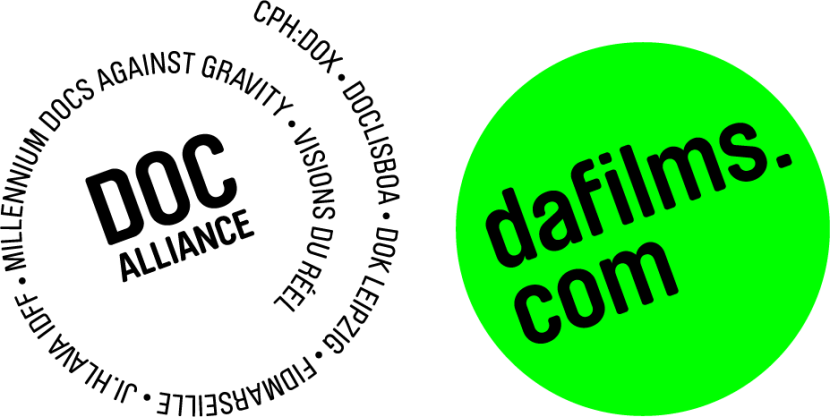 Doc Alliance is the result of a creative partnership of 7 key European documentary film festivals:
➤ CPH:DOX (Denmark)
➤ Doclisboa (Portugal)
➤ DOK Leipzig (Germany)
➤ FIDMarseille (France)
➤ Ji.hlava IDFF (Czech Republic)
➤ Millennium Docs Against Gravity (Poland)
➤ Visions du Réel (Switzerland)
The aim of the Doc Alliance initiative is to advance the documentary genre, support its diversity and continuously promote quality creative documentary films.
Doc Alliance activities
Doc Alliance Selection
Since 2008, the Doc Alliance platform presents the Doc Alliance Selection Award. The award goes to the best European documentary film selected independently by each of the platform's festival members. The individual festivals also nominate the representatives of the jury of experts, recruited among the film critics from the festival countries.
Within the Doc Alliance Selection section, each of the Doc Alliance festivals screens at least 3 films nominated for the award in the given year.
DAFilms.com
The online portal DAFilms.com is the main project of the Doc Alliance festival network formed by 7 key European documentary film festivals. It represents an international online distribution platform for documentary and experimental films focused on European cinema. For a small fee, it offers over 1900 films accessible across the globe for streaming or legal download.
The films are included in the virtual database on the basis of demanding selection criteria. The portal presents regular film programs of diverse character ranging from presentation of archive historical films through world retrospectives of leading world filmmakers to new premiere formats such as the day-and-date release. DAFilms.com invites directors, producers, distributors, and students to submit their films, thus offering them the possibility to make use of this unique distribution channel.
Moreover, the portal directly supports the makers of the presented films by paying them 60% of the sum paid for viewing the documentary.