FAQ
Frequently asked questions: all you need to know about Ji.hlava and are not afraid to ask!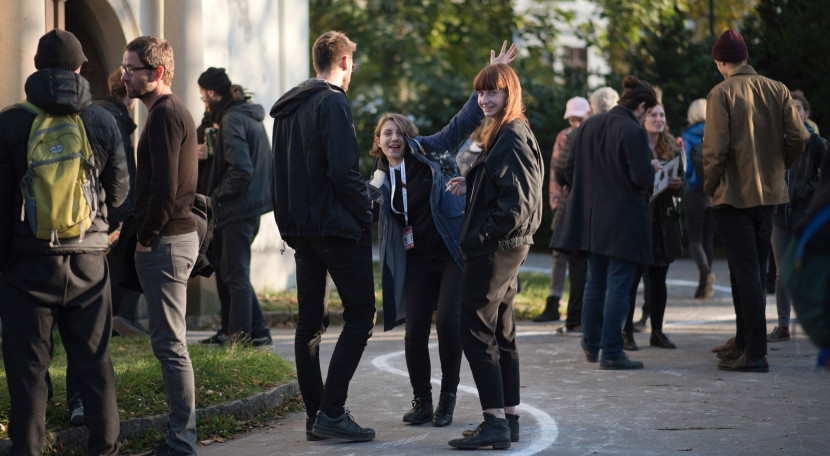 I would like to submit a film to the festival – when and how can I do so?
Films submissions to the upcoming festival edition are always launched in mid-February. Submissions can only be made using this submission form. In addition to documentary films, we accept experimental, animated and TV formats stemming from reality, virtual reality projects and documentary and educational PC games.
Is it possible to screen festival films in our cinema, café, etc.? Can we use your subtitles?
We do not have distribution rights attached to the films beyond the scope of the festival. If you wish to screen some of the festival films, please contact its distributor, authors, producer or holders of the rights directly. The contact information can be found in the section Contacts in the provided film details. The festival does not have the film subtitles available for further use.
We would like to offer our food, products, books etc. to festival visitors.
The festival has only a limited area available for sales and distribution of other parties' goods and the festival partners are carefully selected. If you wish to become one, please contact us at spoluprace@ji-hlava.cz.
Which languages are used during the film screenings? Where can I find details about the subtitles and translation?

Films are shown in their original language, if possible with English subtitles. All films are accompanied by a Czech translation (original in Czech / subtitles / simultaneous translation in headphones). Almost all films also have an English version (English subtitles).
Q&As following the film screenings are in Czech with simultaneous translation in headphones into English and vice versa (discussions in English are translated into Czech).
The Inspiration Forum sessions are held in both Czech and other languages. Each discussion is translated simultaneously into Czech and most of them into English. Information about translation/and/or subtitles are provided for each individual film listed in the programme brochure.
Information about the language of the subtitles is also provided in the film annotation on the website and in the mobile app.

Can I reserve seats or buy tickets for individual screenings?
It is not possible to reserve seats at festival screenings. If you wish to see a film, please arrive well in advance of the start of the screening. Tickets to individual screenings can be purchased for CZK 140 at the screening venue only, an hour before the start of the screening. Note that an individual ticket does not ensure priority admission to the screening hall. If you are not admitted to the screening hall due to its full capacity, we will refund your ticket. A special Doc.Man row is reserved for those who become our festival Doc.Men. To become a Doc.Man and support the Ji.hlava IDFF, click here.
When will the festival programme be published?
The film selection is a crucial part of our event. Although the programming work starts in March, the list of films selected for the festival will be disclosed at the end of September. Annotations have to be written for each of the titles and suitable screening time and venue have to be allocated in the programme schedule. Our aim is to offer the latest of contemporary Czech and world documentary production in the best possible conditions, which is another reason why it takes so long to compose and publish the time programme. The latest date of publication of the programme is 10 days before the start of the festival.
What accommodation is available at the festival and how can I book it?

The accommodation capacities of the city of Jihlava are very limited. Therefore, the only type of accommodation for visitors that can always be guaranteed by the festival is a place in a gym where you can sleep in your own sleeping bag. The festival also provides accommodation at a boarding house in Třešť (bus connection from Jihlava using a festival shuttle bus available free of charge for accredited visitors).
Accommodation for Industry Programme guests – please contact the Industry Guest Service at industry@ji-hlava.cz for our accommodation offer. We will attend to your inquiries and requests as of the beginning of September.
For other up-to-date offers please check out our website or Facebook. Starting in the beginning of June when we launch our accreditations, you can book accommodation in the gym through our Visitor Page. Places in the gym can also be reserved on the spot at the Festival Centre.
We also recommend using the Airbnb service.

Can I pay with my card on the spot?
Yes, you can!
I have bought a festival pass but I cannot make it to the festival. Can I get a refund?
No refunds are made for the purchase of accreditations, but you can change the registration details and give the pass to someone else. In that case, please contact us on akreditace@ji-hlava.cz.
How can I support the festival?
If you, too, have a passion for documentary cinema and want to know more about the festival, support Ji.hlava and become our Doc.Man. Even a small contribution can work wonders. And documentary cinema also needs its heroes. Who are Doc.Men and what are their benefits? Find out more HERE.
Is there a Wi-Fi connection available at the festival?
Yes, all festival venues offer internet connection, if technically possible.
Name: JIDFF_visitors
Password: dokrevue.com
What do you offer for children?
We have made the festival accessible to the youngest audience of Ji.hlava IDFF offering an exquisite selection of educational, entertaining and creative activities for children on their own, or accompanied by parents. Please check out our programme updates at Ji.hlava for Kids HERE.
---
Other useful information: