JI.HLAVA NEW VISIONS 2021
Ji.hlava IDFF the JI.HLAVA NEW VISIONS 2021 Forum – a financing, co-production and networking event dedicated to supporting European documentary production in its diversity and creativity.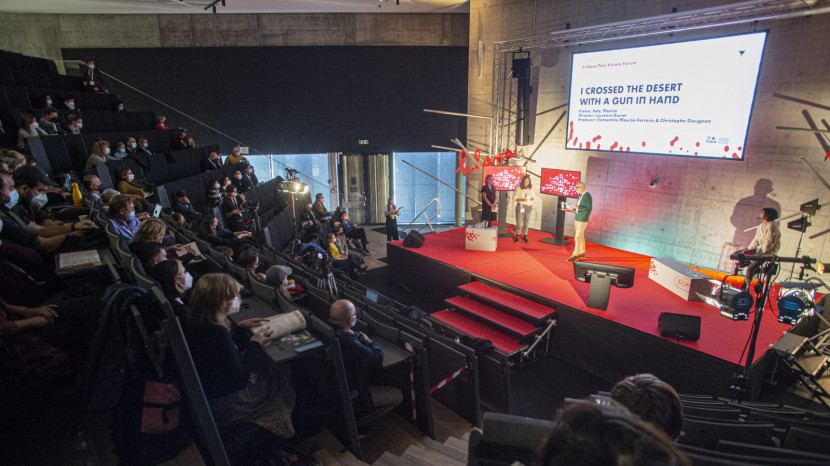 At the core of the JI.HLAVA NEW VISIONS 2021 Forum will be pitching of 21 European documentary projects – 11 in the development stage and 10 in production and post-production stages. The event will take place on October 28–29, 2021 in Jihlava, Czech Republic during the 25th Ji.hlava IDFF and will be attended by film professionals and other stakeholders in the film industry accredited at the festival. The presentation will be available both in person and online.
Among the selected projects there are not only documentary films but also diverse audiovisual formats such as fiction with documentary aspects, hybrid, experimental, short films, docu and web series, cinema expanded projects, games with documentary aspects and VR / AR / Live documentaries.
In our selection process, we focused on the artistic vision of the project, its originality and author-driven character, visual style and fresh spirit, international potential in terms of financing and development of collaboration, openness for sharing the project with other partners, as well as diverse modes of distribution.
Dates:
Thursday, October 28, 2021
15.00–17.00 Pitchings of 11 new European projects in development stage
Friday, October 29, 2021
15.00–17.00 Pitchings of 10 new European projects in production and post-production stage
Format:
Selected projects will be presented by the director-producer pair along with a preview of the upcoming film. Each day the pitchings will be followed by presentations of documentary projects by U.S.-bases authors (17.30–19.00) and the day will be concluded by a feedback talk.
The JI.HLAVA NEW VISIONS 2021 Forum will be accompanied with an online JI.HLAVA NEW VISIONS 2021 Market (October 27–30, 2021). The projects for the Market will have an opportunity to take part in the Ji.hlava Matchmaking Accelerator, which features several hundred accredited film professionals – festival representatives, curators, distributors, sales agents, commissioning editors and journalists from across the world.
SELECTED PROJECTS
PROJECTS IN DEVELOPMENT
PROJECTS IN PRODUCTION & POSTPRODUCTION
========
PROJECTS IN DEVELOPMENT
AGAINST THE WIND
Director: Tatyana Soboleva
Producer: Tatyana Soboleva
Runtime: 75'
Genre: Documentary
Country: Russia
Estimated date of premiere: September 6, 2023

Synopsis: The Nogai people are descendants of the Golden Horde who are living in the Southern Caucasus of Russia. They experience issues of language loss, identity loss, and lately, an ecological disaster. Formerly lush and green, today the Nogai steppe is turning into a desert. In the autumn, the team led by a simple woman named Gulfira goes deep into the new desert for several months. Every day they walk for many kilometres under the icy, sandy wind and plant branches of Juzgun – a shrub with long roots that can stop the sand. Will Gulfira survive in this battle for the homeland, or will the Nogai land disappear along with its people?

Production Company: Dostoevsky Dok

BEAUTIFUL VOID
Director: Andris Gauja
Producers: Andris Gauja, Elza Gauja
Runtime: 60'
Genre: Documentary, Experimental, Cinema expanded
Country: Latvia, Estonia
Estimated date of premiere: Spring 2024

Synopsis: Several very different characters – a pioneering physicist, an acclaimed minimalist composer, an intensive care doctor and a crematorium director – each in their own way find a strikingly similar answer to the cliché question: what is the universe made of? According to them, the ultimate source of reality is essentially empty space, which spontaneously manifests what we call matter in a magical display.

Production Company: Riverbed

INTRUDERS
Director: David Krøyer
Producer: Thor Hampus Bank
Runtime: 85'
Genre: Documentary
Country: Denmark
Estimated date of premiere: November 1, 2022

Synopsis: By following the battles of five different people, all battling different invasive species in their own local environments, we get to know them, the unwelcome species, and the landscape that they want to protect from uncontrolled evolution. Nature is an open battlefield, and these people know it. They will do whatever it takes to protect the landscape from the intruders. This film is a documentation of different hunts for different invasive species, a study of what it means to be invasive, and a modern perspective on nature in the Anthropocene era.

Production Company: GotFat Productions

IT'S NOT YOUR FAULT
Director: Paula Ďurinová
Producer: Matej Sotník
Runtime: 80'
Genre: Hybrid
Country: Slovakia, Czech Republic, Germany
Estimated date of premiere: November 11, 2023

Synopsis: An essay on collective anxiety and the problems triggered by life in a fast and performance-oriented society. Through young Eliana, the director's alter ego, we follow the story of burnout, work retraining and healing of a human soul using radical forms of therapeutic strategies. Everyday life blends into the reality of dream spaces – "emotional incubators", where the individual becomes collective. And the film becomes a part of the personal journey of the author as well as a hero of the story. We are situated in Berlin, representing the generic and business area of metropolitan cities in Europe.

Production Company: GUČA

KAFILA
Director: Isaac Stillwell
Producer: Isaac Stillwell
Runtime: 80'
Genre: Documentary
Country: France, Morocco
Estimated date of premiere: September 1, 2023

Synopsis: Kafila is an expedition: a journey from the edges of the desert to the Atlas Mountains. With the Library of Naciria a collective of artists and scientists discover an entry point into a network of interconnecting stories present in the landscape. Journeying through the remains of former civilisations, the experience of the film connects a voyage on foot over the course of several months, and encounters in the present moment, with the stories of the library. We are following the paths of travellers in time: an investigation into seeing how societies change, transform and adapt.

Production Company: Kolophon

LISTENING CENTRE
Director: Carlotta Berti
Producer: Michelangelo Ferrara
Runtime: 90'
Genre: Documentary
Country: Italy
Estimated date of premiere: June 1, 2023

Synopsis: Never leaving the ex-convent in which the Listening Centre is based, the camera follows listening sessions, internal meetings, and the training in listening of new volunteers. The film focuses on the power of listening as a social, spiritual and artistic act – an antidote to the current pandemic of loneliness. The Centre's visitors, who want to feel seen, welcome the camera as a way to reinforce the acceptance they seek. The listening sessions reveal a shocking and yet relatable social picture, made of voices that are not easily accessed, and that would otherwise remain unheard.

Production Company: R For REAL

NISTRU. THE IRREVERSIBLE FLOW OF LIFE
Director: Iurie Tocmas
Producer: Ieva Ūbele
Runtime: 90'/52'
Genre: Documentary, VR+AR+Live documentaries
Country: Latvia, Moldova
Estimated date of premiere: January 10, 2024

Synopsis: The river Nistru has been the unifying element of nations residing on its banks for thousands of years. Yet recently it has also become a border within a frozen conflict between Moldova and an unrecognised breakaway state – Transnistria. The future of an entire nation depends on whether the people residing on the riverbanks will learn to see how the state of the river reflects their lives. In the film, the river Nistru serves as a metaphor for both time and fate, the mirror of human life and self-reflection and finally as a magic talisman, which is an indispensable part of mythical journeys.

Production Company: Baltic Balkan Productions

ONE OF US
Director: Rachel Close
Producers: Monica Lăzurean-Gorgan, Elena Martin
Runtime: 90'
Genre: Documentary
Country: Romania
Estimated date of premiere: January 15, 2024

Synopsis: 30 years on, having been adopted by a Canadian couple, Mihaela returns to Romania in search of her birth family. We come to learn that Mihaela's story is connected in some way to the filmmaker, Rachel. In this participatory documentary, psychological transference between subject and filmmaker is explored and utilised as a storytelling device. Where does one woman's narrative end and the other's begin? The line is not always clear. The film will dance between subjective and objective realities and illuminate the cathartic potential of self-authorship.

Production Company: Manifest Film

THE SOIL OF THE NAMIB
Director: Christian Zipfel
Producer: Alina Schäfers
Runtime: 25'
Genre: VR + AR + Live documentaries
Country: Germany
Estimated date of premiere: August 20, 2022

Synopsis: Narrowness with no way to escape. Predominant darkness. Only a few small lights cast shadows and slightly enlighten the surroundings. Shattering noises of machines and tools in use. Dust is in the thin air, and rocks keep coming loose. The atmosphere is menacing, suspenseful and at the same time fascinating. Like moles, the small miners are digging ever deeper into the mountains. The soil of the Namib is an essayistic 360° documentary in three chapters about illegal mining in Namibia, contextualized with historic colonialism and contemporary economic globalization.

Production Company: TIME PRINTS

I CROSSED THE DESERT WITH A GUN IN HAND
Director: Laurence Garret
Producers: Clémentine Mourão-Ferreira, Christophe Gougeon
Runtime: 85'
Genre: Documentary, Hybrid
Country: France, Italy, Mexico
Estimated date of premiere: March 4, 2023

Synopsis: This is the story of a man who, in his late 30s, has already lived several lives. Rock band singer in Salt Lake City. Dealer. Former Marine in Iraq. Discharged from the Army before leaving for Afghanistan. Terrorism suspect. Hitman for the Tijuana cartels. On the verge of suicide. He is now finishing law school at San Diego University. Daniel Torres shares his adventures with his friend Erasmo in a road movie from Utah National Park to the Mexican frontier. An intimate story, funny and sensitive, far from the clichés of virility. A documentary epic shot like a fiction film.

Production Company: so-cle, Acqua alta

YOUTH
Director: Mariana Gaivão
Producer: Pedro Fernandes Duarte
Runtime: 80'
Genre: Fiction with documentary aspects, Hybrid
Country: Portugal, Germany, France, Czech Republic
Estimated date of premiere: July 1, 2023

Synopsis: Matias is a Portuguese teenager growing up in Lisbon, with no connection to the German nationality of his father. In the summer of his 16th birthday, Matias finds the memories of his grandfather Gerald, in the form of an old photo album titled "Jugend" ("Youth"). In one of the most striking photos, Gerald, then also 16, wears a Nazi uniform, and looks disturbingly like Matias. Over the 80 years that separate them, a bridge emerges, triggering a long journey across Europe, itself haunted by the amnesiac resurgence of nationalism, echoing the too recent history of the old continent.

Production Company: Primeira Idade
PROJECTS IN PRODUCTION & POSTPRODUCTION
GUEST WORKER
Director: Matej Bobrik
Producer: Agnieszka Skalska
Runtime: 75'
Estimated date of premiere: November 11, 2023
Genre: Documentary
Country: Poland

Synopsis: Nikesh is 13 years old and came to Poland with his parents, Shiv and Shushila, a few years ago in search of work and a better life. Nikesh is already building his life in Warsaw – here, he has friends and lives like a young European. His dad wants to raise his son as a Nepalese and does everything he can to provide for the family. As a result, Shiv's life comes down to working several jobs and constant confrontations with his son. Shiv is torn between his wife, who cannot imagine growing old in Poland, and his son, who cannot imagine growing up in Nepal.

Production Company: Koi Studio

HARD EXIT
Director: Carmen Torres
Producer: Marta Andreu
Runtime: 79'
Estimated date of premiere: February 10, 2022
Genre: Documentary
Country: Spain

Synopsis: Tota has fallen in love with Mana, a younger woman who believes in and practices open relationships, which is a new world for Tota, challenging to handle. They are at the height of their romance when, suddenly, Mana leaves her. In the film, Tota is going through her mourning process. In the meantime, the filmmaker-character relationship unveils a deep, loving long-lasting friendship between us. Hard Exit is about lesbianism and feminism, transforming relationships, love, broken hearts and remaining friendships. It is about the idea that life goes on and, in the end, somehow everything is overcome.

Production Company: Walden

HYPERION HAS ESCAPED
Director: Arnaud Gerber
Producer: Arnaud Gerber
Runtime: 110'
Estimated date of premiere: February 3, 2022
Genre: Fiction with documentary aspects, Hybrid
Country: Germany

Synopsis: Based on Friedrich Hölderlin's Hyperion, the Hermit in Greece, this is a filmic variation about our times, their battles, disillusions and remaining hopes. Mixing fiction, web footage of demos around the world and documentary, Hyperion Has Escaped reinterprets a mythical figure (Hyperion) and launches him into our reality in order to confront him with its madness and violence. Beginning as an elegy, making many detours in the absurd and ending almost as a child's joke about eternity, it is also an invitation to build a new alliance with nature.

Production Company: Arnaud Gerber

MARA
Director: Sasha Kulak
Producers: Louis Beaudemont, Ksenia Gorenstein
Runtime: 62'
Estimated date of premiere: January 2021
Genre: Documentary, Hybrid
Country: Belarus, France, UK

Synopsis: ​Mara is a hybrid documentary essay that takes us on a journey into the fear that took over Belarus. The narrative invites the viewer to join Mara while she watches the story unfold. Haunted by the scenes on the street, she is caught between facing her reality and escaping into her dreams. Mara guides us through the events that changed the life of thousands of women like her. To impersonate this never-ending nightmare, Ira, a young woman, dresses as Mara - a female spirit in Slavic culture who comes to people in their sleep to bring them dreams or nightmares.

Production Company: Les Steppes Productions

MODERN FLAT
Director: Dainius Liškevičius
Producer: Dagnė Vildžiūnaitė
Runtime: 86'
Estimated date of premiere: February 28, 2022
Genre: Documentary, Cinema expanded
Country: Lithuania

Synopsis: The story of the film is based on the artist's home videos and documentary material covering a decade of his creative work. The author presents his apartment as a living space and the main character of the film. By engaging his entire family in the project, he creates a new micro-social model of his home, where they all act according to self-imposed rules. Events that take place are both casual and creative: the living space becomes a stage, routine becomes performance and the other way round, art projects become family entertainment, as well as a radical transformation of the home.

Production Company: Just a moment

NECROPOLIS
Director: Keren Alexander
Producers: Kobi Mizrahi, Niklas Kullström
Runtime: 75'
Estimated date of premiere: February 2, 2023
Genre: Documentary
Country: Israel, Finland

Synopsis: Necropolis follows the construction of massive underground burial tunnels excavated deep under the biggest Jewish cemetery in Jerusalem. This ambitious construction site will serve as background to our cinematic journey; we'll observe sorrowful mourners, Palestinian builders, and Ultra-Orthodox morticians roaming around the spectacular monument. The lively collage they create together shows the eternal struggle of Jerusalem between the high and the low, progress and tradition, manual labour, and sacred work. This is a film about a city of contrasts, about death and the life surrounding it.

Production Company: KM Productions, Hillstream Pictures

TAUROPHILIA
Director: Francesco Montagner
Producer: Veronika Kührová
Runtime: 15'
Estimated date of premiere: September 1, 2022
Genre: Fiction with documentary aspects, Experimental, Short
Country: Czech Republic, Slovakia

Synopsis: Through rhythmic re-composition of fragmented images, semi-surreal situations are explored in a documentary style of observation of a man's obsession with a powerful animal, the black horned bull, and the Spanish process of taxidermy through which he attempts to embody its beauty and strength, turning into a Minotaur. The subdued basement space in which the man meticulously studies the motionless flesh of the animal is preceded by a sunlit, empty arena in Spain, the stage in which the bull is presented in its full glory before facing man.

Production Company: Analog Vision

THE CABINET
Director: Živilė Mičiulytė
Producer: Stasys Baltakis
Runtime: 60'
Estimated date of premiere: December 1, 2021
Genre: Documentary
Country: Lithuania

Synopsis: In Lithuania, two investigative journalists work segregated from others in an isolated office as if in a cabinet. This cabinet is the only location in the film. It seems that they are in the cabinet, like they are closed, separated from others, even from the other journalists. It's a slow and minimalistic film. It's not a film about one specific journalistic research; this film presents a monotonous and nervous atmosphere in this cabinet. The boundaries between truth and falsehood begin to overlap, journalists experience the betrayal of a colleague, the office becomes sweltering and unpleasant.

Production Company: Film Jam

THE VISIT AND A SECRET GARDEN
Director: Irene M. Borrego
Producers: Irene M. Borrego, Renata Sancho, Mariangela Mondolo-Burghard
Runtime: 65'
Estimated date of premiere: February 2022
Genre: Documentary
Country: Spain, Portugal

Synopsis: Little is known about the figure of Isabel Santaló, an old artist, today fallen into oblivion. But occasionally some visitors come to her flat. Through them and the voice of Antonio López (Dream of Light, Víctor Erice), the only painter who remembers her, we shape a multifaceted film. This is a cinematic portrait, which well into the film takes a surprising turn. A film that reflects on memory and oblivion, art and the creative process; posing the question of what it means to be an artist and a woman.

Production Company: 59 en Conserva, Cedro Plátano, Lda.

WHO IS MISSING TODAY?
Director: Květa Přibylová
Producer: Jitka Kotrlová
Runtime: 70'
Estimated date of premiere: September 30, 2023
Genre: Documentary
Country: Czech Republic

Synopsis: Lively situations, concentrated observations, authentic diaries from scientific expeditions and animations create a distinctive feature-length documentary about the fragile and vital links between man, birds, and the landscape. Through the renowned ornithologist Luboš Peške, we observe the changes in these links that affect the life and death of birds - on the level of individuals, populations, and species. Tension emerges between human capability to have a relationship only with one particular individual and the fact that for survival of the species, the individual means nothing.

Production Company: Frame films