Award for best Czech documentary literature
1st edition / 2021
Ji.hlava IDFF explores the concept of the documentary not only in films but also in radio production, computer games, virtual reality, and theatre projects. Starting 2021, it also focuses on literature with a strong documentary aspect, contributing to reflection on the present and thinking about the past.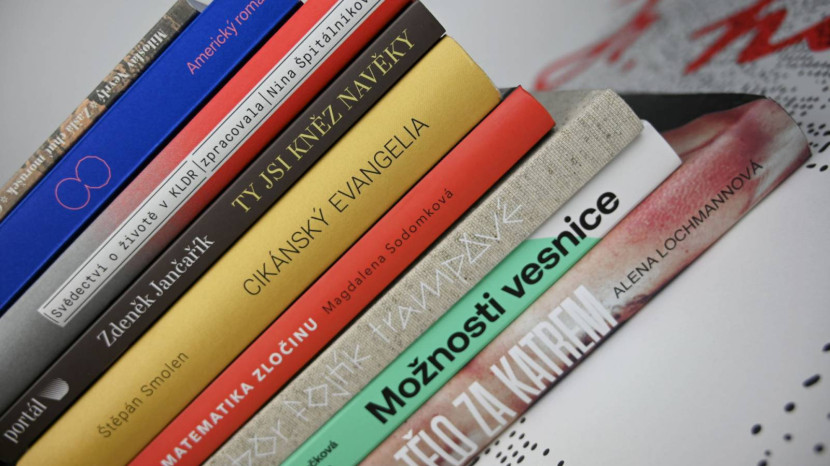 There are many different creative ways to present facts. The broad designation Award for Best Czech Documentary Literature thus covers a whole group of documentary books of all types, forms, genres, and modes of presentation.
---
Winning documentary book 2021
The winning book of the first year of the competition for the best documentary book is a collection of texts by Miroslav Nevrlý: Zašlá chuť morušek / Cestovní zpráva čarodějova učně.
The winning book was rewarded with a financial amount of CZK 30,000.
Nominated books
Děvčata první republiky
Jana Poncarová, Dita Pepe / wo-men / 2020
Svědectví o životě v KLDR
Nina Špitálníková / Nakladatelství Lidové noviny / NLN / 2020
Matematika zločinu
Magdaléna Sodomková / CPress / 2020
Karanténa
Jaroslav Hutka / Galén / 2020
Byl jsem dobrej: Rozhovory s Ondřejem Bezrem z let 1999, 2006, 2017, 2020
Vladimír Mišík, Ondřej Bezr / Galén / 2021
DobroDruhům
Tereza Ramba / BizBooks / 2020
Když není motorka, lépe chodit pěšky: po stopách P. Josefa Toufara
Miloš Doležal / Nezavislý podmelechovský spolek / 2020
Válka je mým osudem
Lenka Klicperová, Markéta Kutilová / Kniha Zlín / 2020
Zašlá chuť morušek / Cestovní zpráva čarodějova učně
Miroslav Nevrlý / Malvern / 2021
Bezstarostná léta bezradná
Ivan Binar / Protimluv / 2020
Ty jsi kněz navěky: Rozhovor s Ludmilou Javorovou
Zdeněk Jančařík / Portál / 2020
Rozpojené státy: Amerika nejen televizní kamerou
Martin Řezníček / Argo / 2021
Normální šílenství: Rozhovory o duševním zdraví, léčbě a přístupu k lidem s psychickým onemocněním
Jiří Pasz, Adéla Plechatá / Host / 2020
Pátrání po Silvestrovi: Válečné osudy baťovců v Singapuru
Jan Beránek / Mystery Press / 2020
Matěj maluje mapy
Michaela Hošková / Portál / 2020
Možnosti vesnice: Portréty architektonické proměny českého venkova
Michaela Hečková, Matěj Chabera / Meziměsto / 2021
Jedna věta: Chrudoš Valoušek
Chrudoš Valoušek / Revolver revue / 2020
Přiznání taxikářů
Jiří Němčík / Jota / 2020
Cikánský evangelia
Šťěpán Smolen / Cesta / 2020
Kdo chytá v síti: Dokumentární kniha o zneužívání dětí na internetu
Marika Pecháčková / BizBooks / 2020
Pandemie
Michal Kubal, Vojtěch Gibiš / Kniha Zlín / 2020
Věta jako povolání: nezapomínky
Karel Hvížďala / Universum / 2020
Bezdětná
Monika Baudišová / Labyrint / 2020
Trampové
Libor Fojtík / PositiF / 2020
Cesta na Tajmyr: aneb Po Jeniseji k Severnímu ledovému oceánu
F.R. Hrabal-Krondak / CAD Press / 2020
Londýn prostě žeru
Lenka Požárová / published by Lenka Požárová / 2020
Tělo za katrem
Alena Lochmannová / Academia / 2020
Írán: Tisíc a jedno dobrodružství
Jiří Sladký / CPress / 2021
Výpravy pro blízké i vzdálenější
Jiří Peňás / Echo Media / 2020
Americký román
Yveta Shanfeldová / Milan Hodek / 2020
---
Jury
Apolena
Rychlíková

Radim
Kopáč

Tereza
Horváthová

Lukáš
Senft