Regional development and audiovisual support
In the Czech Republic, regional film offices have been established in the last ten years with the aim of attracting film crews to the regions and supporting the growth of the film industry outside Prague as the natural centre of Czech audiovisual industry. Subsequently, the emergence of grant programmes and film funds have become another natural pillar of regional audiovisual development. This year, as part of the Ji.hlava Industry programme, we will look at examples of good practice from Bergen, Norway, where the Vestnorsk filmsenter project has been developing for over 30 years as one of the key pillars of the infrastructure aimed at diversifying audiovisual production, and we will discuss the prospects for the development of similar institutions in the Czech Republic.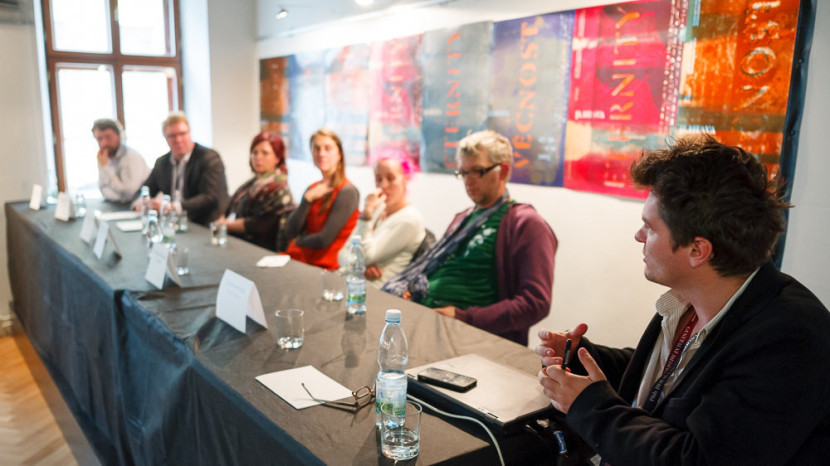 Program:
October 27, 2023
Evangelical Church Rectory, Vrchlického 1, Jihlava
2:00 PM – 3:15 PM | Czech situation and introduction of foreign model - Vestnorsk region
We will open a map of the current state of regional support for audiovisual in the Czech Republic. How do the regions stand and where are new support programmes planned? The Norwegian guests will then present the history of the Film Centre project, which is now an institution that finances local productions and international co-productions, while supporting the growth of local talent and the opportunities for local production companies. Using the example of Aldeles, we will discuss the possibilities of linking film production and destination activities.
Guests: Stine Tveten (director of Vestnorsk filmsenter), Elisabeth Kleppe, Elin Jorunn Sander (producers from Aldeles), Simon Bauer (director of the Documentary Film Centre Jihlava)
Moderator: Přemysl Martinek (Regional Manager at the Association of Producers in Audiovisual).
The programme is aimed at film producers, film commissioners, regional government officials and others. Admission by invitation or with industry accreditation.
3:30 PM – 4:15 PM | One-to-one meetings
Are you interested in co-production opportunities with Norwegian producers or the possibility of filming in the Vestnorsk region? Would you like to know what is important for the development of regional film centres and how to strengthen the capacity of the audiovisual industry in the region? Would you like to know more about the situation in the Czech regions? Arrange a personal meeting with one of the guests of the previous panel or with representatives of the Czech Film Commission, the South Moravian Film Fund, the Film Office of the Ústí Region or the Prague Audiovisual Fund.
The programme is aimed at film producers, film commissioners, regional government officials and others. Meetings must be booked in advance at premysl@c-d-f.cz.
October 28, 2023
Kino Dukla - Edison Hall, Jihlava
Screening of the film Bergen
The event is organized by the IDFF Jihlava within the Ji.hlava Industry together with the Documentary Film Centre, the Association of Producers in Audiovisual, the Gate of Jihlava and with the support of the City of Jihlava within the project Restoration of the House Masarykovo náměstí 21.