Conference Fascinations 2019
5th edition of conference on the distribution and presentation of experimental films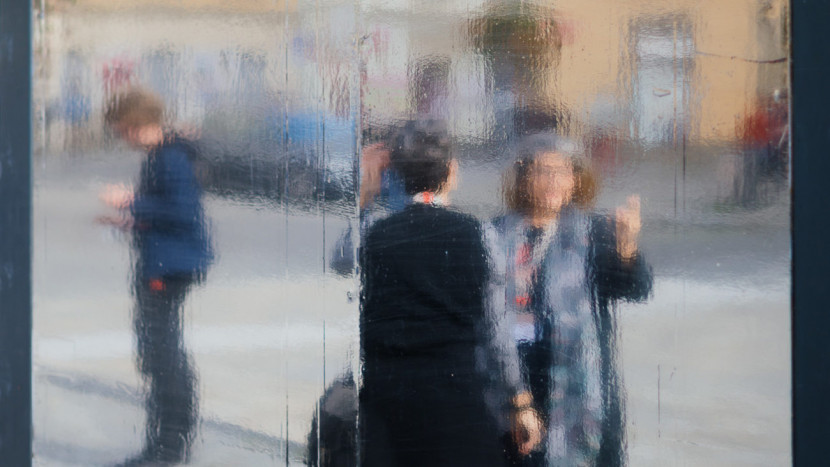 The Ji.hlava International Documentary Film Festival (JIDFF) organises the fifth conference meeting for experimental documentary film distributors, gallerists and festival representatives.
Conference Fascinations 2019 follows up on four previous editions – Conference Fascinations 2015 that brought together and introduced representatives of major experimental film distribution companies from all over the world, the Conference's 2016 edition focusing on the curatorship aspect in relation to specialised festivals and the presentation and ways of providing, evaluating and presenting works in gallery spaces, and last year's programme (Conference Fascinations 2017) where film industry and gallery representatives discussed the institutional-commercial aspect of presentation and dissemination of this type of works in relation to seeking and promoting new talents (with one of the debates dedicated to art in VR environment), and the last edition of the conference (2018) that explored the ways artworks are presented using various technologies and media types – from the film reel to interactive films and VR artworks.
The fifth edition of the conference will focus on the creation, presentation and subsequent distribution of audiovisual works commissioned by galleries, festivals and other institution working within the field of audiovisual production. The topic is approached from a curator's technological-production and educational perspective.
In 2015, notable international distributors became acquainted with the Czech experimental scene, whereas 2016 provided a lead-in into the historical era of totalitarian communist regime as well as the underground and experimental cinema in Eastern Europe. In 2017, gallerists, distributors and festival programmers got to know experimental production of the Balkans from the same period and the 2018 edition showcased experimental works produced in the Baltic region under totalitarianism. This year's screenings will be dedicated to the works of Ukrainian underground and experimental cinema that originated during the communist regime.
Representatives of distribution companies, festivals and galleries will also be presented with Czech experimental documentaries (Exprmntl.cz competition section) and with a special programme of experimental films from a selected territory. The Ji.hlava IDFF has become the first platform enabling a systematic presentation of Czech experimental films (notably works referring to reality and including documentary features), at the same time continuously focusing on Eastern European cinema; the festival's ambition is to promote Czech and European films internationally and to facilitate collaboration between Czech filmmakers and distributors, galleries and festivals and those active abroad.
CONFERENCE FASCINATIONS PROGRAM 2019
» moderator – Andrea Slováková

Friday, October 25, 2019
10.00 – 10.10 am | Welcome speech
10.10 – 11.20 am | 5-Minute Presentations of Distributors, Festivals and Galleries
Centre Pompidou / Judith Revault d'Allonnes, film curator / France
CFMDF / Genne Speers, distributor / Canada
Mladý pes / Ľubica Drangová and Matej Fandl, creators of interactive graphics
LightCone / Eleni Gioti, distributor / France
Ludwig museum / Katalin Timár, senior curator / Hungary
Rotterdam IFF / Peter van Hoof, programmer of short films / The Netherlands
Electronic Arts Intermix EAI / Karl McCool, distribution manager / USA
Zacheta / Marta Miś, film curator / Poland
PAF - Festival of Film Animation and Contemporary Art / Alexandr Jančík, director / Czech Republic
World XR / Salar Shahna, creative director and CEO / Switzerland
SOMNIACS / Max Rheiner, founder and director / Switzerland
Tate Modern / Andrea Lissoni, senior curator, International Art – film) / UK
11.40 am – 12.40 pm | Discussion panel I
Curatorship aspect: What motivates institutions to commission artworks? Presentation of examples. What are their criteria for the selection of artists? How do they deal with the artworks after their premiere/display – do they take care of their further presentation? In what ways? How do the commissioning institutions influence the resulting form of the artworks?
Speakers
Andrea Lissoni / senior curator International Art (film) / Tate Modern / UK
Peter van Hoof / programmer of short films / Rotterdam IFF / The Netherlands
Genne Speers / distributor / CFDMF / Canada
Marta Miś / film and education curator / Zachetta / Poland
2.00 – 3.00 pm | Discussion panel II
Production and technological-organisational aspect: What is the typical process of commissioning and production of commissioned artworks? Examples illustrating various types of processes. What time-frame is usually required – how long in advance do the artists need to be contacted and what time should be sufficient for the creation of the artwork? To what extent does the commissioning institution participate in the production of the artwork? Examples of various ways of distributing responsibilities and competences and organisational implications.
Speakers
Ľubica Drangová, Matej Fandl / creators of interactive graphics / Mladý pes / Slovakia
Judith Revault d'Allonnes / film curator / Centre Pompidou / France
Max Rheiner / founder and director / SOMNIACS / Switzerland
Katalin Timár / senior curator / Ludwig museum / Hugary
3.20 – 4.20 pm | Discussion panel III
Legal and economic aspect: Pricing policies related to commissioned artworks. Who is the owner of the artwork (copyright issues – various examples)? What is the typical economic model of presenting this type of works (is it different for galleries and site-specific presentations as opposed to film festivals)? Best practice examples of how to further distribute various works of art and present them to prospective distributors and exhibitors.
Speakers
Salar Shahna / creative director and CEO / World XR / Switzerland
Eleni Gioti / distributor / LightCone / France
Karl McCool / distribution manager / Electronic Arts Intermix EAI / USA
Alexandr Jančík / director / PAF - Festival of Film Animation and Contemporary Art / Czech Republic
4.20 | Invitation to film screenings and a toast
Saturday, October 26, 2019
10.00 am – 12.00 noon | One-to-one meetings
» Presentation of experimental works of authors from Eastern Europe to individual distributors, festivals and gallerists directly at one-to-one meetings.
» Each of the 10 tutors provide 3 x 15-minute consultations to authors of experimental films, video-art works and installations.
» This year, they will have the opportunity to meet with representatives of film labs and VR experts (in relation to film and gallery presentation).
Partner of Conference Fascinations

HISTORY