Docu Talents from the East 2016
Brand new documentary films in progress from Central and Eastern Europe, a region with a long documentary tradition and a range of remarkable and creative filmmakers. Directors and producers of the selected feature-length documentaries introduce their projects during eight-minute presentations.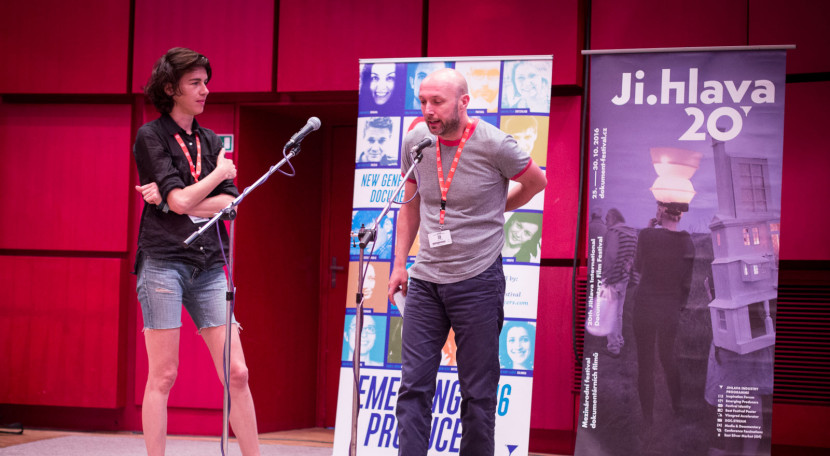 Selected Docu Talents projects 2016
A LONG DAY / DLHÝ DEN
Director: Pavol Pekarčík
Country: Slovakia
Producer: Pavol Pekarčík
Director of photography: Pavol Pekarčík
Film length: 80 min
Stage of development: production
Estimated date of premiere: January 2017
Synopsis
A documentary film about hearing-impaired children living on the edge of society, shot as an observation. The film works with long shots, which allow us to closely follow the reality of the four main characters: Sandra, who is in love with Ronaldinho and soccer; Alena, who is scared to have children, because she fears they would be deaf as well; Patrícia, who doesn't hear because she doesn't have batteries in her hearing aid; and Bajaja, who dreams of becoming a train driver and Van Damme at the same time.
Producer
Partizanfilm
Havlíčkova 40, 040 01 Košice, Slovak Republic
palopekarcik@gmail.com | +421915037479
A TALL TALE / KHRONIKY/BAJKA
Director: Lucia Nimcova
Country: Slovakia
Producer: Roman Babjak
Director of photography: Lucia Nimcova
Film length: 40 min
Stage of development: production
Estimated date of premiere: November 2016
Synopsis
Throughout history, traditional music and culture has been appropriated and misrepresented; presently in Ukraine, patriotic songs play an important role in fueling populist romantic nationalism. A Tall Tale seeks to capture private and hidden realities within communities excluded from the main historical narrative of the region. Songs describing – in tragic, brutal and comical ways – domestic abuse, murder, conflict, sex, love and hate. The alternative folklore of the region: hard mountain rap, vintage feminism and filthy Carpathian hip hop, is still alive and relevant.
Producer
sittcomm.sk
Družstevna 4, 06601 Humenné, Slovak Republic
info@sittcomm.sk | +421948000497 | www.sittcomm.sk
BATALIVES / BATALIVES
Director: Karolina Zalabáková, Petr Babinec
Country: Czech Republic
Producer: Karolina Zalabáková, Lukáš Gargulák
Director of photography: Lukáš Gargulák
Film length: 75 min
Stage of development: post-production
Estimated date of premiere: October 2016
Synopsis
A look at the people who live on the opposite side of the world, and yet in the same place. Five characters staying in five cities with the same unique history. The film has been shot in Zlín - Czech Republic, Borovo - Croatia, Batanagar - India, Batadorp - Netherlands and Bataypora in Brazil. During the 1920s, Tomas Bata, a global icon of the entrepreneurship from Czechoslovakia, started to base brand new cities around the world in order to expand his business. In the course of several decades, he founded about 30 towns built according to a unique concept. Today there are only a few that have survived. Our movie recounts the story of people who keep living in these places. They have more in common than could be obvious.
Producer
Cinebonbon
Erbenova 5, 602 00 Brno, Czech Republic
karolina@cinebonbon.com | +420604208419 | www.cinebonbon.com
DIAGNOSIS / DIAGNOZA
Director: Ewa Podgórska
Country: Poland
Producer: Małgorzata Wabińska
Director of photography: Marek Kozakiewicz, Maciej Twardowski
Film length: 52/70 min
Stage of development: production
Estimated date of premiere: February 2017
Synopsis
Film is an artistic interpretation of a process conducted by the world's first urban psychoanalyst who treats city as a human being. The inhabitants' confessions on the couch, life scenes in the form of reminiscences, shards of memory and feelings, combined with the visionary shots of the city create a projection of thoughts of the psychoanalyst. Everything creates one living organism which has its light and dark sides. An organism, every element of which - a man, a building, a road or a tree – plays its individual role, while at the same time being somehow connected and one with the whole.
Producer
Entertain Pictures Sp. z o.o.
Narutowicza 34 lok. 312, 90-135 Łódź, Poland
entertain@entertainpictures.com | +48514709909 | www.entertainpictures.com
GOGITA'S NEW LIFE / GOGITAS AKHALI TCKOVREBA
Director: Levan Koguashvili
Country: Georgia
Producer: Levan Koguashvili
Director of photography: Gigi Samsonadze
Film length: 78 min
Stage of development: post-production
Estimated date of premiere: September 2016
Synopsis
Gogita spent 14 years in prison for robbery. After he got out, he decided to meet a woman and get married. He travels to Kutaisi to meet Maka - a girl he met on the internet. They have agreed to spend one week at the seaside. Gogita's mother is against this relationship, because Maka is overweight, not young and not exactly pretty. Gogita's mother wants a slim, good-looking girl. Gogita opposes her. He lives in a village in a decaying house, he's poor and was in jail. Slim and pretty woman won't marry him. For a man like him Maka is good enough: kind-hearted and cooks delicious meals.
Producer
Kino Iberica
Melikishvili Str. 13, Old Tbilisi, Tbilisi 0179 Georgia
levan.koguashvili@gmail.com | +995 599 555 750
HELENA'S LAW / ZÁKON HELENA
Director: Petra Nesvačilová
Country: Czech Republic
Producer: Klára Žaloudková
Director of photography: Klára Žaloudková
Film length: 80 min
Stage of development: post-production
Estimated date of premiere: November 2016
Synopsis
AIn her most recent film, young actress and documentary director Petra Nesvačilová decided to focus on police detective Helena Káhnová, who, with her colleague, managed to send to prison in the 1990s several dozen people in the so-called Berdych Gang case – including Berdych himself. In total, the sentences meted out came to hundreds of years – the policewoman, as an extra work bonus, received 10,000 CZK and a promotion which was revoked soon afterwards. In completing the film the director managed to establish a working relationship with Berdych himself and former members of his gang.
Producer
Background Films
Korunní 1209/76, Prague 10, Czech Republic
zaloudkova@backgroundfilms.cz | +420 774689278 | www.backgroundfilms.cz
NINE MONTHS WAR / KILENC HÓNAP HÁBORÚ
Director: Laszlo Csuja
Country: Hungary
Producer: Agnes Horvath-Szabo, Andras Pires Muhi
Director of photography: Zagon Nagy
Film length: 75/50 min
Stage of development: production
Estimated date of premiere: June 2017
Synopsis
A 24 years old Hungarian boy has been fighting in the Russian-Ukrainian war for nine months. What motivates the boy to do so? He is not a patriot and doesn't care about politics. Jani's decision is about something else - finding independence. The film is shot in an observational style during the boy holidays in his hometown. Besides, we use Jani's mobile footage from the military camp. The rhythm of the film is dictated by Jani's arrivals and departures. Nine Months War is a coming-of-age drama, which also shows the problem of militarization in the background.
Producer
ELF Pictures
Regiposta utca 7-9, Budapest 1052, Hungary
h.sz.agi@gmail.com | 003670 773 8873 | www.elfpictures.hu
OPERA ABOUT POLAND / OPERA O POLSCE
Director: Piotr Stasik
Country: Poland
Producer: Anna Gawlita
Director of photography: Adam Palenta
Film length: 75 min
Stage of development: production
Estimated date of premiere: June 2017
Synopsis
It will be the first Polish cross-genre project: a blend of opera and a documentary film. The music piece, written especially for this occasion, will be combined with documentary pictures (depicting Poland and Polish people) as well as written and spoken word (announcements in local papers, fragments of radio auditions, poetry and prose). We want tell you about contemporary Poland. But this story will be free of temporary journalism or politics. It will be a story about archetypes, symbols, anthropology, philosophy and metaphysics. What is Poland? What is our attitude to it? Who are we? What's happening to us? Which ethical and value sets help us and which are our curse? Are we a nation striving for self-destruction? Have we been committing a slow suicide over the centuries?
Producer
KIJORA Anna Gawlita
Ul. J. Dąbrowskiego 18/15, 02-561 Warszawa, Poland
kijora@gmail.com | +48 609 421 497 | kijorafilm.com
PEPIK THE CZECH GOES TO POLAND IN A QUEST FOR LOVE OF GOD / ČESKÝ PEPÍK JEDE DO POLSKA POZNAT LÁSKU K BOHU
Director: Vít Klusák, Filip Remunda
Country: Czech Republic, Slovakia, Poland
Producer: Jana Brožková, Zdeněk Holý
Director of photography: Martin Tokár, Martin Matiášek
Film length: 90 min
Stage of development: production
Estimated date of premiere: July 2017
Synopsis
In the middle of Europe, two nations coexist side by side, close to one another in many ways, and yet worlds apart. The Czechs are dedicated atheists, while the Poles are born as baptized Catholics. Czechs shake their heads in disbelief at Polish piety, while Poles hold Czechs in contempt for living without God. A Czech documentary crew sets out on a summertime pilgrimage across Poland in order to investigate through camera the specific situation regarding the notion of "Czech atheism vs. Polish religion".
Producer
Vernes - Jana Brožková, Zdeněk Holý | Česká televize - Alena Müllerová, Jiří Vlach | Hypermarket Film - Vít Klusák, Filip Remunda | Plesnar & Krauss Fims - Joanna Plesnar, Maria Krauss | Peter Kerekes | PISF
Vernes, Karla Buriana 721/4, 370 01 České Budějovice, Czech Republic
jana@vernes.cz | +420 776650778 | vernes.cz
THERE WILL BE FOG ON THE ROADS / NA DOROGAH BUDET TUMAN
Director: Ivan I. Tverdovskiy
Country: Russia
Producer: Ivan I. Tverdovskiy, Natalia Mokritskaya, Mila Rozanova
Director of photography: Alexander Mikeladze
Film length: 100 min
Stage of development: post-production
Estimated date of premiere: January 2017
Synopsis
As Nikolay Gogol once said, Russia has two problems: fools and roads. In the film, they observe both. A dusty road connects one town with another. There is a highway patrol on the road. And there are drivers. Do they chase one another? Do they help one another? Who is the winner and who is the loser? The peculiar ways in which they coexist represent the paradoxes of the desperately corrupt society in modern Russia.
Producer
New People Film Company
Brusov Lane 2-14-74, Moscow, Russia
rosmillia@gmail.com | +1 530 204 8627
THE ROAD MOVIE / DOROGA
Director: Dmitrii Kalashnikov
Country: Russia
Producer: Volia Chajkouskaya
Director of photography: -
Film length: 60 min
Stage of development: post-production
Estimated date of premiere: March 2017
Synopsis
The film is composed of dashcam videos from all over Russia posted on YouTube. The film's main protagonist is the collective image of a Russian man. We do not see this character but we hear his/her voice reacting to the situations that are visible from the "neutral" perspective of a dash camera. And this character moves from season to season facing weird and dangerous situations but keeps pursuing his/her endless journey.
Producer
Eight and a Halfstudio
Contact: 197101, St. Petersburg, Kamenoostrovskiy prospekt, 10, L, 74
dima@8sp.ru | +7 (952) 220 67 82 | www.8sp.ru
THE SELF AND THE OTHER / DESPRE SINE SI CELĂLALT
Director: Ionut Piturescu
Country: Romania
Producer: Alexandru Teodorescu
Director of photography: Alfredo Altamirano
Film length: 85 min
Stage of development: post-production
Estimated date of premiere: April 2017
Synopsis
Todi constructs schools and churches. He is also a magician in cheese making, a tradition that he learned from his ancestors, who used to live in the same Aromanian village, isolated in the mountains of Albania. His friend Spiru is an esteemed economist in a Tirana company, but also one of the most appreciated Aromanian poets in South-East Europe. Together, they set out on a Balkan journey in order to collect all the knowledge needed for creating a Cultural Centre for Aromanian Research and Education.
Producer
SAGA FILM
Dimitrie Racovita 8, Bucharest, Romania
sagafilm@sagafilm.ro | +40 (21) 317 33 60 | sagafilm.ro
HISTORY