Docu Talents from the East 2018
Brand new documentary films in progress from Central and Eastern Europe, a region with a long documentary tradition and a range of remarkable and creative filmmakers. Directors and producers of the selected feature-length documentaries introduce their projects during eight-minute presentations.
The Docu Talent Award was newly granted to the most promising projects. The international jury selected two winners: An absurd tragicomical Ukrainian-Belarussian documentary placed in today's Crimea My Granny from Mars directed by Alexandar Mihalkovich and produced by Volia Chajkouskaya, and an intimate artistic documentary film Birthday directed and produced by Hilal Baydarov from Azerbaijan. The awards were accompanied with financial prize 2,500 USD for each project, in cooperation with the festival's partner Current Time TV. For more info see the press release.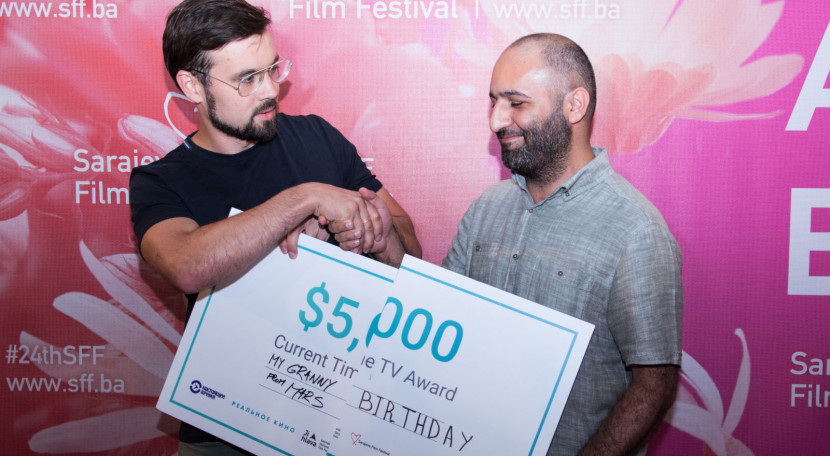 Selected Docu Talents from the East projects 2018
MY GRANNY FROM MARS / Бабушка
Director: Aleksandar Mihalkovich
Film length: 72 min
Country: Belarus, Ukraine
Producer: Volia Chajkouskaja
Director of photography: Sergej Kanapljanik
Stage of development: post-production
Estimated date of premiere: November 2018
Synopsis
An old Ukrainian woman is trapped in Crimea, caught between Russia and Ukraine. The film shows how political events affect the life of an ordinary person, a grandmother. Faced with social isolation and loneliness, Babushka has to decide – whether to stay or go.
Producer
Volia Films
Zalataya Horka 11-38, Minsk, Belarus
chajkouskaya@gmail.com / +375 297 168 171
www.facebook.com/TheRoadMovieIDFA2016/
BIRTHDAY / Ad Günü
Director: Hilal Bajdarov
Film length: 63 min
Country: Azerbaijan
Producer: Hilal Bajdarov
Director of photography: Hilal Bajdarov
Stage of development: Finished
Estimated date of premiere: October 2018
Synopsis
It is the birthday of a lonely woman (my mother). Her husband died years ago, and her sons abandoned her. She expects only a simple telephone call, but nobody phones. She makes special meals, but nobody visits. She prays all day, but they are not heard.
Producer
Ucqar Film
Cavadkhan 1 / 9 MKR / Baku, Azerbaijan
hbaydarov@gmail.com / +9942725803
BOY OF WAR / Boy of War
​Director: Cyprien Clément-Delmas, Igor Kosenko
Film length: 80 min
Country: Germany, Czech Republic
Producer: Fabian Driehorst
Director of photography: Ivan Castiñeiras
Stage of development: Post-Production
Estimated date of premiere: October 2018
Synopsis
"Why are you here? Are you mentally sick? Do you want to kill people?" the Ukrainian commander asks Artiom in the recruiting interview in Mariupol. Artiom is 18 and enthusiastic about weapons. He plays war games with his friends at abandoned sites. He considers himself an expert in combat and lives in a bubble that romanticizes war. Artiom believes he is ready to be an elite soldier. But the day he announces he will prove himself by joining the volunteer army fighting Pro-Russian separatists has less effect than he hopes: his friends and family see him as a dreamer.
Producer
Fabian&Fred
Simon-von-Utrecht-Str. 85a, 20359 Hamburk, Germany
fabian@fabianfred.com / +494033442740, +4917624313418
www.fabianfred.com​
DANCE WITH ME DAD / Zatancz ze mną tato
Director: Małgorzata Goździk
Film length: 60 min
Country: Poland
Producer: Magdalena Puzmujźniak
Director of photography: Magdalena Bojdo
Stage of development: production
Estimated date of premiere: March 2019
Synopsis
Closeness is essential in family relationships, no matter how old we are. Dance with me, Dad starts in a moment when closeness is lost. An adult daughter comes back to her family house after years of artistic studies. She wants to reconnect with her grumpy, pessimistic father. The film becomes a medium for her to look deeper into their relationship. Taking small steps, she tries to spend more time with her dad. They start doing home repairs together. After a while, everyday talks turn to honest conversations. Soon, the daughter will invite her dad to take classes together in dance – an activity they both have a natural gift for. Will the father approve her attempts?
Producer
Big Wave Films
Dembowskiego 12/71, 02-784 Warsaw, Poland
puzmujzniakm@gmail.com / +486 674 809 42
www.bigwavefilms.pl
HONEYLAND / Медена Земја
Director: Ljubomir Stefanov, Tamara Kotevska
Film length: 87 min
Country: Macedonia
Producer: Atanas Georgiev, Ljubomir Stefanov
Director of photography: Fejmi Daut, Samir Ljuma
Stage of development: Postproduction / Rough cut
Estimated date of premiere: January 2019
Synopsis
The last female beehunter in Europe must save the bees and return the natural balance in Honeyland, when, a family of nomadic beekeepers invade her land and threaten her livelihood. The film is an exploration of an observational indigenous visual narrative that deeply impacts our behaviour towards natural resources and the human condition.
Producer
Trice Films
ul. Mihail Chakov 7a, 1/28, Skopje, Macedonia
tricefilms@gmail.com
JAN JEDLIČKA: COLOURFUL TRACES OF LANDSCAPE / Jan Jedlička: barevné stopy krajiny
Director: Petr Záruba
Film length: 75 min
Country: Czech Republic
Producer: Alice Tabery
Director of photography: Miroslav Janek
Stage of development: production
Estimated date of premiere: July 2019
Synopsis
Jan Jedlička lost the landscape of his youth. The political situation after 1968 forced him to emigrate. He settled in Switzerland and found his artistic home and topic in the Maremma area of southern Tuscany. The film aims at mapping a 40-year-long journey during which this solitary artist searched for his own way to pronounce a landscape, to express it in its essence. A characteristic feature of Jedlička's works is earthiness. He collects colourful rocks from which he produces pigments that he uses in his paintings. The pictured landscape thus becomes also the means (the pigments) of its image.
Producers
CINEPOINT s.r.o. – Alice Tabery (Czech Republic); Česká televize – TPS Petra Kubici (Czech Republic); Mammut Film – Ilaria Mallagutti (Italy); Box Productions – Elodie Brunner (Switzerland)
CINEPOINT s.r.o., Pod Vinicemi, 710/13, 16500 Prague, Czech Republic
tabery.alice@gmail.com / +420 732 883 260
www.cinepoint.cz​
MAIA – A PORTRAIT WITH HANDS 1999 - 1905 / Maia – Portret cu mâini 1999 - 1905
Director: Alexandra Gulea
Film length: 80 min
Country: Romania
Producer: Ana Maria Pirvan
Director of photography: George Chiper
Stage of development: production
Estimated date of premiere: August 2019
Synopsis
My grandmother dies at the age of 93 in a building located on the Victory of Socialism boulevard and is born in the Macedonian mountains under the Ottoman Empire. Her journey as a Romanian woman stretches throughout the 20th century. The research of her particular destiny, which is decisive for my evolution on today's territory of Romania, in the context of the great historical events of the last century, constitutes a film that shows the dramas between great and "small" history – the individual dramas. Maia, is a tribute to those anonymous people, transformed in heroes by our love.
Producer
Anchor Films
Bucharest, Romania
anamaria@anchorfilms.ro / +407 430 113 60
www.facebook.com/Anchor4Artists
THE BLACK WEDDING / Crna svadba
Director: Dragan Nikolić
Film length: 80 min, 52 min
Country: Serbia
Producer: Jovana Nikolić
Director of photography: Dragan Nikolić
Stage of development: Development
Estimated date of premiere: October 2019
Synopsis
The Black Wedding is a film about facing loss, based on the story of three generations of women who were involved in the same black wedding – a secret marriage ritual between a dead and a living person.
Producer
Prababa Production
153 Boul. Zoran Djindjic ap. 25, Belgrade, Serbia
jovana@prababa.rs / +381 60 0250009
www.prababa.rs​
THE RED SHEEP / La Pecora Rossa
Director: Sara Tirelli
Film length: 90 min
Country: Romania, Italy
Producer: Ioana Turcan
Director of photography: Sara Tirelli
Stage of development: Postproduction
Estimated date of premiere: October 2018
Synopsis
The Red Sheep portrays the life and work of Maria Vittoria Backhaus, a famous 70-year-old Italian fashion photographer and granddaughter of Mussolini. Maria Vittoria will rediscover her revolutionary story as she creates a new photographic endeavour focused on the most significant and personal periods of her life, strongly linked to the political and cultural history of Italy.
Producer
Madera Creation, Studioset Production
I.D Mendeleev nr 2, Bucharest, Romania
igturcan@syr.edu / +40742606326
www.studioset.tv​
VIVA VIDEO, VIDEO VIVA: CZECHOSLOVAK ELECTRONIC IMAGE / VIVA VIDEO, VIDEO VIVA: Československý obraz elektronický
Director: Adéla Komrzý
Film length: 75 min
Country: Czech Republic
Producer: Vít Komrzý
Director of photography: Jakub Halousek
Stage of development: production
Estimated date of premiere: May 2019
Synopsis
The film happens to be directed by the granddaughter of Radek Pilař, the well-known creator of beloved Czech children's animated series such as Rumcajs, who was somewhat less well known as a pioneer of video art in Czechoslovakia. The documentary brushes the dust off of those old VHS cassettes to get a glimpse of early electronic images in our country and uncover the previously unmapped history of pre-revolution Czech video art. Decades later all "videists" (Skala, Vasulka and others) still share their enthusiasm, obsessive curiosity, and futuristic visions about the use of new technologies for artistic expression.
Producer
Universal Production Partners
Žitomírská 7/489, 101 00 Prague 10, Czech Republic
a.komrzy@gmail.com / +420 602 231 942
www.upp.cz​
HISTORY