Ji.hlava New Visions Market
Documentary projects of all types and formats produced by European filmmakers are selected for the Ji.hlava New Visions Market 2022.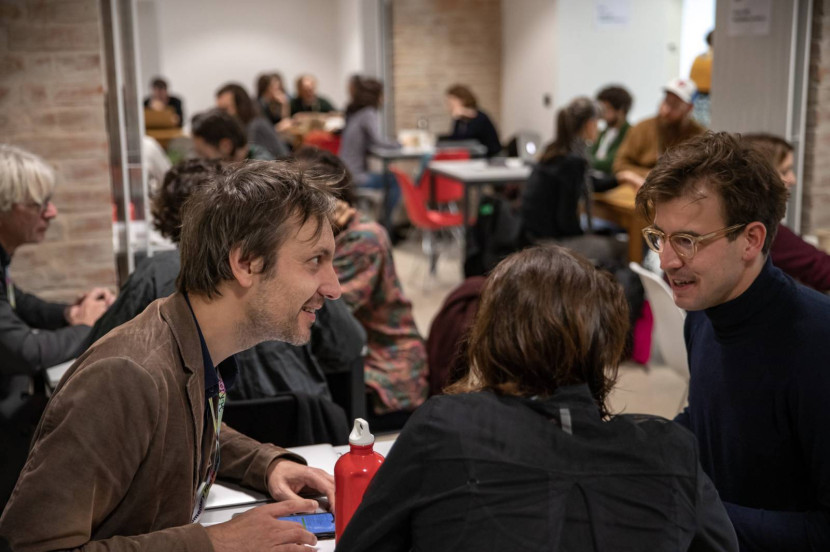 Ji.hlava New Visions follows new trends in contemporary European film production, and the Market is therefore opened to all types of non-fiction audiovisual formats. The aim is to create an active hub connecting producers and other professionals to support the financing and development of projects, as well as their subsequent promotion and distribution.
The Market was an opportunity for film professionals accredited at the 26th Ji.hlava IDFF to meet the authors of the selected projects. It was also a chance for the Market participants to find co-producers for their projects.
All accredited film professionals can log in to the Market using their Eventival accounts. The Market will be accessible until November 13.
The meetings with the Market participants were possible both online and onsite depending on their availability.
This year the Market featured 50 new documentary projects (including 16 European and 10 U.S. projects selected for the Ji.hlava New Visions Forum 2022).
Projects selected to the Ji.hlava New Visions Market 2022
A BIT OF A STRANGER
Director: Svitlana Lishchynska
Producer: Anna Kapustina
Genre: Documentary
Country: Ukraine
Estimated date of premiere: 2023
ARTIFACT
Director: Carlos Essmann
Producer: Carlos Essmann
Genre: Documentary, Hybrid
Country: Spain
Estimated date of premiere: 2023
BECOMING EMA
Director: Patricia Drati
Producer: Sidsel Lønvig Siersted
Genre: Documentary
Countries: Denmark, Slovakia, Spain
Estimated date of premiere: 2024
BEYOND SIGHT
Director: Alex Brendea
Producer: Alex Brendea
Genre: Documentary
Country: Romania
Estimated date of premiere: 2025
BROTHERS IN THE HUNT
Director: Ieva Ozolina
Producer: Madara Melberga
Genre: Documentary
Country: Latvia
Estimated date of premiere: 2024
CAPTAIN
Director: Laura Otálora
Producer: Estephania Bonnett Alonso
Genre: Hybrid
Country: Spain
Estimated date of premiere: 2023
HIDDEN
Director: Monika Kotecka
Producer: Marta Szymanowska
Genre: Documentary, Hybrid, Shorts
Country: Poland
Estimated date of premiere: 2024
I'M NOT A BAD MAN
Director: Nadya Todorova
Producer: Nadya Todorova
Genre: Documentary
Country: Bulgaria
Estimated date of premiere: 2023
IN NECROSIS
Director: Francois Yazbeck
Producer: Danai Anagnostou
Genre: Experimental, Fiction with documentary aspects
Countries: Finland, Lebanon
Estimated date of premiere: 2023
KARTLI
Directors: Tamar Kalandadze, Julien Pebrel
Producer: Ketevan Kipiani
Genre: Documentary
Country: Georgia
Estimated date of premiere: 2024
LIGHT FALLS VERTICAL
Director: Efthymia Zymvragaki
Producers: Angelo Orlando, Anna M. Bofarull, Patricia Mora, Valentín Thurn
Genre: Documentary
Countries: Germany, Spain
Estimated date of premiere: 2023
LOST FOR WORDS
Director: Hannah Papacek Harper
Producer: Dorian Blanc
Genre: Documentary
Country: France
Estimated date of premiere: 2024
MAYBE, IT'S NOT REAL
Director: Štefánia Lovasová
Producer: Michaela Kaliská
Genre: Experimental, Fiction with documentary aspects, Shorts
Country: Slovakia
Estimated date of premiere: 2024
MEMORIES OF A BURNING BODY
Director: Antonella Sudasassi Furniss
Producer: Estephania Bonnett Alonso
Genre: Hybrid
Countries: Costa Rica, Spain
Estimated date of premiere: 2023
PART OF SOCIETY
Director: Rati Tsiteladze
Producer: Olga Slusareva
Genre: Documentary
Country: Georgia
Estimated date of premiere: 2023
PROHIBITION OF CERTAIN ACTIONS
Director: Toma Turilova
Producer: Sergei Yahontov
Genre: Documentary
Country: Georgia
Estimated date of premiere: 2023
SEARCHING FOR POKEMON
Director: Roman Blazhan
Producer: Roman Blazhan
Genre: Documentary
Country: Ukraine
Estimated date of premiere: 2024
SINCE I LEFT
Director: Mina Saeidi Shahrooz
Producer: Mahnaz Tafaghi
Genre: Documentary
Countries: France, Iran
Estimated date of premiere: 2023
TAU
Director: Timofey Stekolschuk
Producer: Sergei Yahontov
Genre: Documentary
Country: Georgia
Estimated date of premiere: 2023
THE EMPTINESS OF ENERGY
Director: Xavier van Delft
Producer: Marrit Winkeler
Genre: Documentary, Experimental, Other
Countries: France, Germany, Netherlands
Estimated date of premiere: 2023
THE FOUR OF US
Director: Josefina Lubojacki
Producers: Wanda Kaprálová, Klára Mamojková
Genre: Documentary
Countries: Czech Republic, Slovakia
Estimated date of premiere: 2023
THE MOUNTAIN
Director: Simone Rosset
Producers: Francesca Riccardi, Riccardo Annoni
Genre: Experimental, Hybrid, Shorts
Country: Italy
Estimated date of premiere: 2023
THE WORLD ACCORDING TO JIRI
Director: Marta Kovářová
Producers: Jan Hubáček, Jan Bodnár
Genre: Documentary
Country: Czech Republic
Estimated date of premiere: 2023
YUPUMÁ
Director: Verónica Castro
Producer: Renata Sancho
Genre: Documentary, Shorts
Country: Portugal
Estimated date of premiere: 2023