Conference Fascinations 2015
First edition of conference on experimental film distribution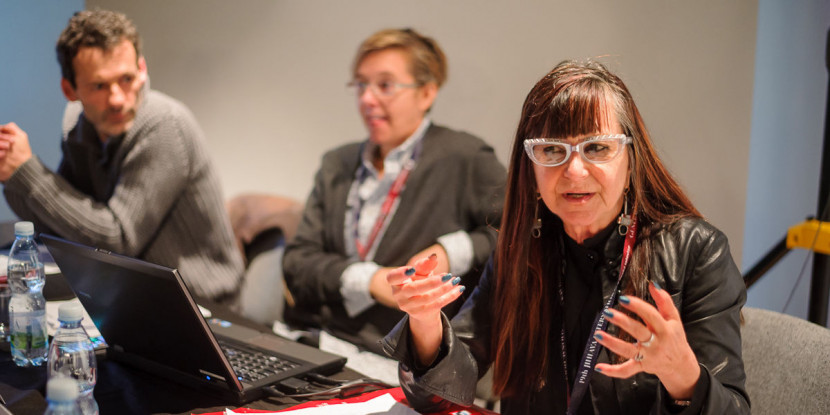 CONFERENCE FASCINATIONS PROGRAM 2015
» moderator – Andrea Slováková
Wednesday, October 28, 2015
10.00 – 10.10 am | Welcome speech
10.10 – 11.20 am | 5-minute presentations of distributors
» Av – Arkki / Hanna Maria Anttila, director / www.av-arkki.fi / Finland
» CFMDC / Lauren Howes, executive director/ www.cfmdc.org / Canada
» Collectif Jeune Cinéma / Théo Deliyannis, director / www.cjcinema.org / France
» Electronic Arts Intermix EAI / Rebecca Cleman, distribution director/ www.eai.org / USA
» Eye Experimental / Edith van der Heijde, distributor / www.eyefilm.nl/eyeonart / Netherlands
» The Filmmakers Cooperative / Mary Magdalene Serra, executive director / www.film-makerscoop.com / USA
» Light Cone / Emmanuel Lefrant, director / www.lightcone.org / France
» LUX / Matt Carter, distribution manager / www.lux.org.uk / UK
» sixpack film / Brigitta Burger-Utzer, managing director / www.sixpackfilm.com / Austria
» V-tape / Wanda vanderStoop, distribution director / www.vtape.org / Canada
11.30 am – 12.30 pm | Discussion panel I
Comparison of various institutional-commercial strategies and models of distribution companies most of which emerged as the so-called cooperatives in 1970s, analysis of the pluses and minuses of such an arrangement.
Speakers:
» Rebecca Cleman, distribution director (Electronic Arts Intermix EAI, USA)
» Wanda vanderStoop, distribution director (V-tape, Canada)
» Brigitta Burger-Utzer, managing director (sixpack film, Austria)
2.00 – 3.00 pm | Discussion panel II
Curator aspect: how distributors build their collections and how are new works and authors registered and selected; exchange of experience and examples of good practice of the possibilities of distributing and presenting experimental films.
Speakers:
» Mary Magdalene Serra, executive director (The Filmmakers Cooperative, USA)
» Lauren Howes, executive director (CFMDC, Canada)
» Emmanuel Lefrant, director, (Light Cone, France)
3.10 – 4.10 pm | Discussion panel III
Where film blends with fine arts: presentation of film works in galleries, transformation of the distribution space in relation to presentation channels other than cinema: galleries and the Internet.
Speakers:
» Edith van der Heijde, distributor ( Eye Experimental, Netherlands)
» Théo Deliyannis, director (Collectif Jeune Cinéma, Francee)
» Matt Carter, distribution manager (LUX, UK)
4.10 pm | Invitation to film screenings
5.40 pm | A Toast for Conference Participants at the Laboratorium Gallery
HISTORY