Conference Fascinations 2020
6th edition of conference on the distribution and presentation of experimental films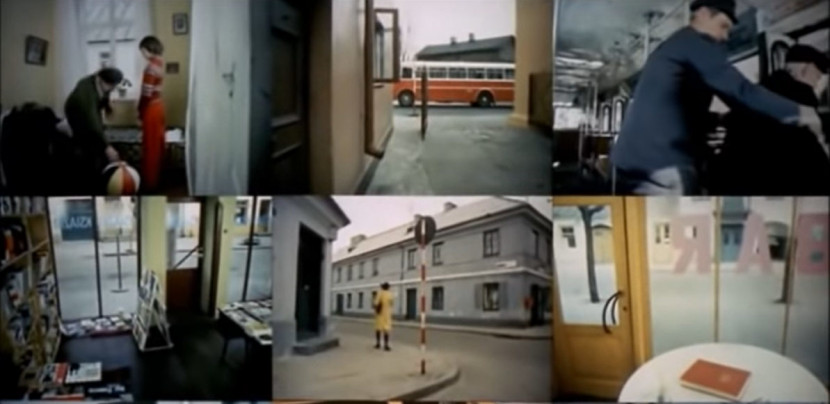 The Ji.hlava International Documentary Film Festival (JIDFF) organizes its sixth conference meeting for experimental documentary film distributors, gallerists and festival representatives.
Conference Fascinations 2020 follows up on five previous editions – Conference Fascinations 2015 that brought together and introduced representatives of major experimental film distribution companies from all over the world, the Conference's 2016 edition focusing on the curatorship aspect in relation to specialized festivals and the presentation and ways of providing, evaluating and presenting works in gallery spaces, and last year's program (Conference Fascinations 2017) where film industry and gallery representatives discussed the institutional-commercial aspect of presentation and dissemination of this type of works in relation to seeking and promoting new talents (with one of the debates dedicated to art in VR environment), the 2018 edition of the conference that explored the ways works are presented using various technologies and media types – from the film reel to interactive films and VR art works, and last year's conference focusing on the creation and presentation of audiovisual works commissioned by galleries, festivals and other institutions.
The sixth conference edition will take place only online and will concentrate on the (1) territorial permeability (or dominance) and (2) presentation and promotion of audiovisual works in the virtual space.
In 2015, notable international distributors became acquainted with the Czech experimental scene, whereas 2016 provided a lead-in into the historical era of totalitarian communist regime and the underground and experimental cinema in Eastern Europe. In 2017, gallerists, distributors and festival programmers got to know experimental production of the Balkans from the same period while the 2018 edition showcased experimental works produced in the Baltic region under totalitarianism. 2019 edition introduced the participants to underground experimental films created in this period in Ukraine. This year's edition will showcase experimental films that were produced during the Polish communist regime.
Representatives of distribution companies, festivals and galleries will also be introduced to Czech experimental documentaries (Exprmntl.cz competition section). The Ji.hlava IDFF has become the first platform enabling a systematic presentation of Czech experimental films (notably works referring to reality and including documentary features), at the same time continuously focusing on Eastern European cinema; the festival's ambition is to promote Czech and European films internationally and to facilitate collaboration between Czech filmmakers and distributors, galleries and festivals and those active abroad.
CONFERENCE FASCINATIONS PROGRAM 2020
moderator: Andrea Slováková
Wednesday, October 28, 2020
10.00–10.10 AM | Welcome speech
10.10–11.00 AM | 5-Minute Presentations of distributors, festivals and galleries
Representatives of galleries and festivals, and experimental film and video-art distribution companies.
CFMDC / Lauren Howes, Executive Director / Canada, www.cfmdc.org
Eye Experimental / Edith van der Heijde, Distributor / The Netherlands, www.eyefilm.nl/eyeonart
Image Forum / Koyo Yamashita, Director / Japan, www.imageforum.co.jp
LightCone / Mariya Nikiforova, Film Collection Manager / France, www.lightcone.org
Malgorzata Sady / Curator, Artist, Lecturer / Poland, konteksty.live/en/malgorzata-sady
MoMa / Josh Siegel, Curator, Department of Film / USA, www.moma.org
Národní filmový archiv (NFA) / Martin Blažíček, Project Manager, Czech Republic / www.nfa.cz
V-tape / Wanda vanderStoop, Distribution Director / Canada, www.vtape.org
12.00–12.40 PM | Discussion panel I
Virtual space. Curatorship aspect: Which online platforms do you use to distribute your audiovisual works? Do you use them as a resource of films for your programs/exhibitions/collections? Do you also present the works online or virtually? Are you interested in the concept of virtual galleries? Virtual space is also a great fit for interactive works – examples of best practice.
Speakers
Edith van der Heijde / Distributor, Eye Experimental / The Netherlands
Mariya Nikiforova / Film Collection Manager, LightCone / France
Malgorzata Sady / Curator, Artist, Lecturer / Poland
2.00–2.40 PM | Discussion panel II
Territories. Curatorship aspect: Does some territory dominate in your collections? Why? What methods do you use to scout for authors from less represented territories and what have you identified as the most problematic aspects of this process? Should works from territories with less familiar cultures be selected by local curators or do you prefer the perspective of your curators? Advantages and disadvantages of both approaches.
Speakers
Lauren Howes / Executive Director, CFMDC / Canada
Josh Siegel / Curator, Department of Film, MoMA / USA
Wanda vanderStoop / Distribution Director, V-tape / Canada
Thursday, October 29, 2020
10.00–10.40 AM | Discussion panel III
Virtual space. Production aspect, technological-organizational aspect, and legal-economic aspect: Is your institution ready to deal with any potential problems related to these aspects when searching for or presenting works online or in the virtual space? Examples of specific problems and best practice (mechanisms) applied to find solutions.
Speakers
Image Forum / Koyo Yamashita, Director / Japan
Národní filmový archiv (NFA) / Martin Blažíček, Project Manager / Czech Republic
Partner of Conference Fascinations

HISTORY